Les femmes du 6e étage (The Women on the 6th Floor)
(2011)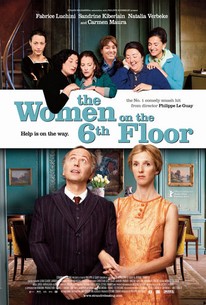 Les femmes du 6e étage (The Women on the 6th Floor) Photos
Movie Info
Paris, 1960. Jean-Louis (Fabrice Luchini, Potiche) lives a bourgeois existence absorbed in his work, cohabitating peacefully with his neurotic socialite wife Suzanne (Sandrine Kiberlain, Mademoiselle Chambon) while their children are away at boarding school. The couple's world is turned upside-down when they hire a Spanish maid Maria (Natalia Verbeke). Through Maria, Jean-Louis is introduced to an alternative reality just a few floors up on the building's sixth floor, the servants' quarters. He befriends a group of sassy Spanish maids (Carmen Maura, Lola Duenas, Berta Ojea, Nuria Sole, Concha Calan), refugees of the Franco regime, who teach him there's more to life than stocks and bonds. The women's influence on the house brings change... muy rápido! Official Selection of Berlinale. -- (C) Strand
People Who Like this movie also like
News & Interviews for Les femmes du 6e étage (The Women on the 6th Floor)
Critic Reviews for Les femmes du 6e étage (The Women on the 6th Floor)
Audience Reviews for Les femmes du 6e étage (The Women on the 6th Floor)
In "The Women on the 6th Floor," business may be booming for Jean-Louis(Fabrice Luchini) in 1962, but at home, things could could not be any less smooth. It all started six months previously when his mother died, so his wife Suzanne(Sandrine Kiberlain) figures it is time to start throwing out stuff. Except their maid Germaine(Michele Gleizer) objects to the point of handing in her notice. And with things bordering on chaos, Suzanne takes her friends' advice, and instead of hiring another maid from Brittany, hires Maria(Natalia Verbeke) right off the bus from Spain. Inexperienced as she is, Maria gets some much needed help from her aunt Concepcion(Carmen Maura) and her compatriots on her first day at work. "The Women on the 6th Floor" is an amusing comedy of manners that Fabrice Luchini does his best to make up for all of the plot holes and improbabilities, with the help of one great exchange.(Plus, how can you hate a comedy with a likable Communist character?) As important as it is to remember that 1962 is very different from today, it is also a year where change is in the air for France, with the Algerian war having just finished, not only for the country as a whole where the native culture gets to assimilate one culture while figuring out which one to hate next, but also on a personal level. For example, Jean-Louis' liberation comes from a different source with his parents now deceased but it is no less important.
I am NOT a French movie fan by any means, but every once in awhile I find myself pleasantly surprised by one. This splendid little film will be added to my "pleasantly surprised" category. Sweet. Charming. Plenty of things to smile about....
Cynthia S.
Super Reviewer
½
This movie certainly isn't breaking new ground nor is it exempt from the cliches of upstairs-downstairs relations and that separation that occurs between boss and servant. There's also that old-ass cliche of the rich people having boring and dull lives and the servants being full of life and happiness despite not having as much. It is a formula movie, pretty much, from beginning to end, but it is certainly a very entertaining one nonetheless. It's got a solid cast, Fabrice Luchini being a highlight trying to play the fish out of water, and he has funny facial expressions. Natalia Verbeke is also pretty damn good at playing a strong and, in a way, independent character. Really it's unfair to single out a couple of the cast when they all contributed equally to the film being as entertaining as it is. Again the movie doesn't reinvent the wheel and it's rife with cliches but that doesn't mean this movie isn't entertaining and worth watching if you have Netflix.
Jesse Ortega
Super Reviewer
Les femmes du 6e étage (The Women on the 6th Floor) Quotes
There are no approved quotes yet for this movie.