The Woodmans
(2011)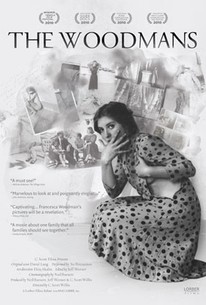 Movie Info
Francesca Woodman's haunting B&W images, many of them nude self-portraits, now reside in the pantheon of great photography from the late 20th century. The daughter of artists Betty and Charles Woodman (she a ceramicist and he a painter/ photographer), Francesca was a precocious RISD graduate, who came to New York with the intention of setting the art world on fire. But in 1981, as a despondent 22-year-old, she committed suicide. THE WOODMANS beautifully interweaves the young artist's work (including experimental videos and diary passages) with interviews with the parents who have nurtured her professional reputation these past 30 years, while continuing to make art of their own in the face of tragedy. The film grapples with disturbing issues, among them: parent-child competition and the toxic level of ambition that fuels the New York art scene. Says Betty Woodman succinctly: "She's the famous artist and we're the famous artist's family." -- (C) Lorber
Rating:
NR
Genre:
, ,
Directed By:
In Theaters:
On DVD:
Box Office:
$38,330.00
Runtime:
Studio:
News & Interviews for The Woodmans
Critic Reviews for The Woodmans
Audience Reviews for The Woodmans
emotive tale of the life and death of an immensely passionate soul through the eyes of her family and art
Julie Moore
½
There are two ways this documentary could have functioned well enough to actually be intriguing: A) Make it solely about Betty and George Woodman, husband and wife octogenarian artists, while briefly mentioning the suicide of their daughter Francesca, also an artist, as a past tragedy. Granted this version has less nudity but still... B) Make it solely about Francesca while getting brief testimony from her parents. Because combining them into two movies does not work. On the one hand, Francesca's ghost continues to overwhelm any work her parents continue to do in the present day. That is while the documentary manages to gleam some insights when talking to Francesca's friends and acquaintances but hits a brick wall when talking to her parents since all parents usually know less about their child when she becomes an adult and leaves home which is especially true in this case. And that's not to mention the film being that much less interesting when the focus is on Betty and George, to be honest.
Two untalented, actually terrible artist-art professor parents and one genius artistic daughter who commits suicide because as the untalented father puts it, "didn't get an NEA Grant". Seriously, he said it as if depression, the illness, had nothing to do with it.Then after the daughter posthumously becomes famous, the father stops "playing in the paint," and takes-up photography to copy his dead daughters style. Then the mother rides her coattails too bitching about it along the way as to why she and her husband are not as recognized as their dead daughter.Never do they ask themselves are they any good.I saw this in several ways as being one big infomercial for these two poor confused untalented parents. I got so mad at one point I had to turn it off. It was a good doc though. Grieving parents doing their art to heal? I don't know. The art of Katte Kollowitz, now that's a grieving parent-art. I think this doc shows how screwed up art jealousy can be in some cases, especially within family.Maybe I'm the only one that saw through this, but it really pissed me off-these two parents could't paint the side of a barn and the fathers photography was pretentious dribble, but because of this video we all know who they are now. Too bad Francesca couldn't have stuck around, she was the artist.
Steven Chandler
The Woodmans Quotes
There are no approved quotes yet for this movie.
Discussion Forum
Discuss The Woodmans on our Movie forum!