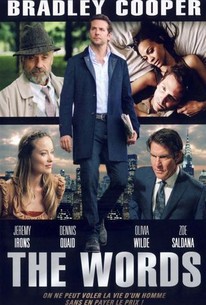 The Words
2012, Drama/Romance, 1h 36m
129 Reviews
25,000+ Ratings
What to know
critics consensus
Neither as clever nor as interesting as it appears to think it is, The Words maroons its talented stars in an overly complex, dramatically inert literary thriller that's ultimately a poor substitute for a good book. Read critic reviews
Where to watch
Rent
Rent/buy
Rent/buy
Rate And Review
Movie Info
When shallow wannabe-writer Rory (Bradley Cooper) finds an old manuscript tucked away in a bag, he decides to pass the work off as his own. The book, called "The Window Tears," brings Rory great acclaim, until the real author (Jeremy Irons) shows up and threatens to destroy Rory's reputation. Cut to Clayton Hammond (Dennis Quaid), a writer whose popular novel "The Words" seems to mirror Rory's story, leading to speculation that the tome is Hammond's thinly veiled autobiography.
News & Interviews for The Words
Audience Reviews for The Words
"The Words" starts with Clay Hammond(Dennis Quaid) reading from his latest novel that begins with an old man(Jeremy Irons) in the rain. But for the time being the story is more concerned with Rory Jansen(Bradley Cooper) who has just won a literary award. Of course, success did not come easy, as he faced perennial rejection from publishers and agents, having to borrow money from his father(J.K. Simmons) on more than one occasion. So, eventually Rory gives up after a fashion and gets a real job and marries his girlfriend Dora(Zoe Saldana). After which, they decide to honeymoon in Paris. "The Words" is a good look at the randomness of success.(Otherwise, we already knew that writers are a bunch of egotistical bastards.) But unlike a lot of other movies, this should have been longer in giving more depth to some of the characters, especially Dora. Otherwise, the first two acts set up an intriguing story. It's the third act where the movie in trying to answer every conceivable question starts to break down. Now whether that's the movie's fault or Clay's fault is up for debate.(That flirtation with meta weirdness I think saves the movie from itself.) What's not up for debate is Jeremy Irons' weird performance as just past the age of 60 he ironically has no idea how to play an old man. However, I would like to go on the record and say I would pay good money to hear Dennis Quaid read from the phone book.

The film was good but could have been so much better. I love the style of the film of a story within a story structure. I do like that they create a puzzle hear for the audience to put together, however, my problem with the film is the ending. The ending was a huge disappointment. I felt like the film was building up to a huge revelation about how all the characters are linked together and the ending was like a curveball. The ending raised more questions than answering any of them. The acting was good. I thought Bradley's character reminded me too much of his character from Limitless.

The ability to write should be first among the qualifications required to write a movie about a writer... but all through this film, all I could think was, "No one involved with this film has ever written anything!" And the attempt to lean on narration - it's like the book you're reading! - falls completely flat, as it's never quite clear who is supposed to be narrating, or (of course) who would read a book were it this badly written. I'd recommend You Will Meet a Tall Dark Stranger well before this one, which has a similar plot but comes from Woody Allen, who may have written a thing or two before the present movie. I really like the premise, and the talented cast does its best with this disastrous script, but unfortunately The Words is much more about the idea of being a writer than it is a believable story of anything a writer might think/want/do.

There is virtually nothing that works in this convoluted, nonsensical and terribly-written drama in which not even the visuals escape the artificial and clichéd, and so everything is a complete failure, from the expository narration to the ridiculous story-within-a-story-within-a-story structure.
See Details