The Zombie Farm
(2009)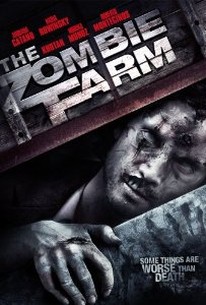 AUDIENCE SCORE
Critic Consensus: No consensus yet.
Movie Info
When a desperate domestic abuse victim turns to a voodoo priestess to solve her problem, a zombie uprising plunges their small town into total chaos. ~ Jason Buchanan, Rovi
Rating:
NR
Genre:
Directed By:
Written By:
On DVD:
Runtime:
Critic Reviews for The Zombie Farm
All Critics (1) | Fresh (0) | Rotten (1) | DVD (1)
A confusing cache of characters populate this underwritten story - I had trouble following the threads, but did enjoy the exploding heads.

Audience Reviews for The Zombie Farm
Mexican Voodoo Zombies! Sounded cool, except the acting was horrible and only consisted of Latino performers (in the USA) where one actor went on a racial issue in a movie where race wasn't a factor. Oh, and very few zombies. Pretty dumb movie from a dumb writer and dumb director.
Darrin Craig
Mexican Voodoo Zombies! Sounded cool, except the acting was horrible and only consisted of Latino performers (in the USA) where one actor went on a racial issue in a movie where race wasn't a factor. Oh, and very few zombies. Pretty dumb movie from a dumb writer and dumb director.
DC Fixx
½
The Zombie Farm (Ricardo Islas, 2010) I have somehow been under the impression for five years that Lockout, the 2006 outing from Uruguayan-born Chicago director Ricardo Islas, was his feature film debut, and I compounded that by thinking Zombie Farm was his sophomore outing. It turns out Lockout was actually Islas' thirteenth feature, and Zombie Farm his sixteenth. This tickles me pink, because it means I have a great deal more Ricardo Islas to see. Lockout, #5 on my list of the best movies of 2006, absolutely blew me away, to the point where I've bought at least a dozen copies over the years to give them to people as presents. Criminally mismarketed as a horror film, it's a supernatural drama that has a great deal to say (in some really amusing, complex ways) about white flight, casual racism, and how little we truly know ourselves. Zombie Farm is much more a straight horror film, which shouldn't surprise anyone given the title, but that doesn't mean Islas hasn't jam-packed it with so much of what made Lockout great. Plot: Pilar Franco (Adriana Cataño, model and character actress probably best known to American audiences from Holy Man) is a filmmaker on a mission, but the production company she's marketing her stuff to doesn't want her idealistic, overly-serious exposés about domestic abuse in Latino households. They want fluff pieces that will show the bright side of Latino culture to white audiences. (One is put in mind of Zakes Mokae's ironic line in The Serpent and the Rainbow: "happy happy island people!") Frustrated and at a loss, she flips on the TV...and catches a horrible low-budget ad for a local mystic who's obviously a charlatan, Roque (We Bought a Zoo's Roberto Montesinos). She calls to set up an appointment, intending to wheel and deal him: he lets her make a puff piece on him for the production company, and in the process she makes him a much higher-quality commercial with which to fleece the rubes. In the waiting room, she notices a woman who may as well be right out of her last documentary attempt: Ana Maria (Monika Munoz, an American actress who moved to Mexico and has been working in TV there ever since), whose husband Antonio (Before Night Falls' Khotan) is of the get-drunk-and-beat-mah-woman variety. You may be able to see where this is going, but I'll spare you the play-by-play and tell you that eventually, Roque, Ana Maria, and Pilar, with occasional grudging help from Roque's landlord, find themselves trying to both avoid Antonio, who won't stop coming after his wife even after taking a bullet to the brain, and trying to find the bruja controlling him, Sonia (Brazilian actress Mariana da Silva), who came to control him after Ana Maria went to see her in desperation. None of which explains the title of the film. Trust me on this, there is, in fact, an actual zombie farm. This time around, Islas has turned his jaundiced eye on (obviously) domestic abuse and the TV charlatans who take advantage of old ladies (there's a great shouting match between Roque and Pilar after she hits him with her idea where he talks about the little old ladies, and she counters that her mother is one of them), but as in Lockout, the characters change and develop throughout the film; this is most notable when Roque, who has obviously been a fleecer of old ladies his entire life, goes after the no-account son of one of his longtime clients who's been stealing her social security checks. It's manipulative and overdone, but still it manages to ring true, and that's something well worth noting. Even more: the romantic subplot between Roque and Pilar is the kind of thing that would drive me up the wall in most movies, but Islas, who also wrote the script, has such a good ear for rapid-fire witty dialogue along these lines that it actually comes off sounding realistic. (Points off, though, for the love-triangle subplot that given one scene towards the end was obviously supposed to be running through this movie; I never got the remotest sense that Ana Maria and Roque were supposed to have any kind of sexual tension between them.) Once again, this is way less horror film than it is supernatural drama, and once again this is an aggressively indie picture (read: you could buy some shoestrings with the budget, but not hang anything from them). And as long as you don't go into it expecting a straight-up zombie horror film, you may find yourself pleasantly surprised at what Ricardo Islas is cooking up. This is good stuff indeed, and I recommend it wholeheartedly. *** 1/2
Robert Beveridge
The Zombie Farm Quotes
There are no approved quotes yet for this movie.