The Theory of Flight
(1998)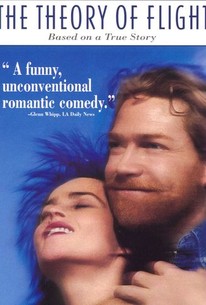 The Theory of Flight Videos
The Theory of Flight Photos
Movie Info
Continuing cinema's fascination with bringing the stories of handicaps and the mentally challenged to the big screen (Rain Man, My Left Foot, Shine, etc.), here comes a low-budget film about the unlikely love story of people brought together by fate, as well as 120 hours of community service. As a frustrated artist who can't build himself a flying machine, Richard (Kenneth Branagh) eventually finds himself in trouble with the law. As punishment for his eccentric behavior, he accepts community service in the company of Jane (Helena Bonham Carter), a strong-willed woman suffering from the neuromuscular disorder called ALS (otherwise known as Lou Gehrig's disease). As the two learn from each other, Jane turns to Richard with the biggest favor of all, helping her lose her virginity. What ensues is a romance/friendship that changes their lives forever.
Rating:
R (for sexuality and language)
Genre:
, ,
Directed By:
Written By:
In Theaters:
On DVD:
Runtime:
Studio:
Fine Line Features
News & Interviews for The Theory of Flight
Critic Reviews for The Theory of Flight
Audience Reviews for The Theory of Flight
An extremely moving film of a most unlikely romance. Bring your tissues as you will have need of them. A real screen gem that will appeal to hopeless romantics, underachievers, the hopeless. See The Theory of Flight for an extraordanary human though improbable adventure. Still, thumbs up by me. [img]http://upload.wikimedia.org/wikipedia/en/thumb/7/74/Theoryofflightposter.jpeg/220px-Theoryofflightposter.jpeg[/img] PLOT: A dreamer who aspires to human flight [in 1998] is assigned public service after one of his attempts jumping off a public building. This leads him to meeting a young woman, who is dying of motor neuron disease. Her one hope is to have a love affair which our dreamer feels he cannot provide yet can he? [img]https://encrypted-tbn3.gstatic.com/images?q=tbn:ANd9GcSih-zmRDxRi6c86zdDBvg1f_K6NXGcHvY4VhpJ0egEkDUnPRbeHw[/img] "The Theory of Flight is a 1998 film directed by Paul Greengrass, starring Helena Bonham Carter and Kenneth Branagh. Bonham Carter plays a woman with motor neurone disease (ALS or Lou Gehrig's disease)...'--- wikipedia [img]http://www.movie-roulette.com/photos_big/the-theory-of-flight-2-1.jpeg[/img] The two stars of the film flying SEE the entire film here: https://www.youtube.com/watch?v=FuHfGr4tULw REVIEWS: Just watched this on Indieplex....amazing performances by Kenneth Branagh and Helena Bonham Carter..... must see!!!! 40% Film Critic Gene Siskel Died On February 20th, 1999. [this was the last film Siskel reviewed (thumbs up) before his death, while partner Roger Ebert gave it a thumbs down] [img]https://encrypted-tbn2.gstatic.com/images?q=tbn:ANd9GcSIVAh1FA2WlJD0X90z8w3L9QGGYPa-Nr1mIlcHKEz_XArqX38F[/img] NOTES: 1 This was the last film reviewed by the noted film critics Gene Siskel, who gave the film a thumbs up, and Roger Ebert, who gave the film a thumbs down, on Siskel and Ebert at The Movies before Siskel's death on 20 February 1999. CAST Helena Bonham Carter as Jane Hatchard Kenneth Branagh as Richard Gemma Jones as Anne Holly Aird as Julie Ray Stevenson as Gigolo [img]http://www.branaghcompendium.com/rickbwjane.jpg[/img] Directed by Paul Greengrass Produced by Ruth Caleb Anant Singh Helena Spring Written by Richard Hawkins Music by Rolfe Kent Cinematography Ivan Strasburg Editing by Mark Day Distributed by Fine Line Features Capelight Pictures Release dates 22 January 1999 Running time 101 minutes Country United Kingdom Language English [img]https://encrypted-tbn2.gstatic.com/images?q=tbn:ANd9GcRx58BA37huKm1lrxg52yjEfeaWTaYqDbgZ3_RhbtxTVolvp9Qx[/img]
monsieur rick
Sad story I caught on TV about the love and friendship which develops between a kind of loser and a woman dying of Lou Gehrigs disease. Fabulous performances by Carter and Branagh...without them the film would have probably been bad.
Robin P.
½
I fully enjoyed this. A man having no life and no direction trys anything that comes along. He may even be a bit self destructive. Her life is ending but she loves and wants to fulfill her basic needs that she has denighed herself. I love her line near the end when she says, " and I thought you were my angel." Wonderful. I don't know why RT scored it 50%
Stephen Utermahlen
The Theory of Flight Quotes
| | |
| --- | --- |
| Jane Hatchard: | Ah, just so you ah know, Richard. Ah I think you are a ah complete dickhead. |