There Will Be Blood
(2007)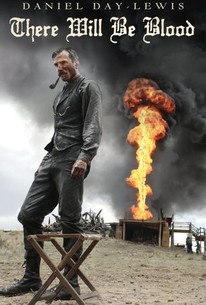 TOMATOMETER
AUDIENCE SCORE
Critic Consensus: Widely touted as a masterpiece, this sparse and sprawling epic about the underhanded "heroes" of capitalism boasts incredible performances by leads Daniel Day-Lewis and Paul Dano, and is director Paul Thomas Anderson's best work to date.
There Will Be Blood Videos
There Will Be Blood Photos
Movie Info
Writer-director Paul Thomas Anderson steps outside his contemporary world of dysfunctional Angelenos to explore a very different dysfunctional man -- an oil pioneer whose trailblazing spirit is equaled only by his murderous ambition. There Will Be Blood is Anderson's loose adaptation of the novel Oil! by Upton Sinclair, and it focuses its attentions on Daniel Plainview (Daniel Day-Lewis), a miner who happens upon black gold during a disastrous excavation that ends in a broken leg. Pulling himself up from the bowels of the earth, both literally and metaphorically, Plainview embarks on a systematic and steadfast approach to mastering the oil business. Using plain-spoken and straightforward language, Plainview launches a campaign to convince small-town property owners they should let him drill their land. Without him, they won't have the equipment to access the profit beneath their feet. He builds an empire this way -- and gradually becomes obsessed with the intrinsic value of power, growing increasingly irascible and paranoid in the process. Plainview meets his match in Eli Sunday (Paul Dano), a teenage preacher in the small California town of Little Boston, whose brother tipped Plainview off to the town's plentiful supply of untapped oil. To fully reap the benefits of the land, Plainview must suffer the opposing whims of this "prophet," whose legitimacy is questionable at best. And it's unclear if either man is prepared to pay the humiliating price the other wants to exact. There Will Be Blood features an anachronistic soundtrack by Radiohead's Jonny Greenwood, and it was shot in the same town where the James Dean epic Giant was filmed. ~ Derek Armstrong, Rovi
News & Interviews for There Will Be Blood
Critic Reviews for There Will Be Blood
Audience Reviews for There Will Be Blood
[img]http://images.rottentomatoes.com/images/user/icons/icon14.gif[/img]
Directors Cat
Super Reviewer
God, what a heavy film. It's a disturbing and weird and fascinating character study that is just out there, but extremely compelling .Even though this is a brilliant masterpiece, parts of it feel a tad forced and hollow, but that's only a minor issue since the point of the film is characters and themes. It's a character study about greed, ambition, family, ruthlessness, and insanity. This is more art than anything. As for the plot, well, it's kinda hard to nail down exactly, but, in broad strokes, it's about a ruthless oil prospector, and the clashes he has with a local preacher as he strives to strike it rich in California during the early days of the oil industry (late 1890s-late 1920s) In a way, this is the kind of historical period piece I go nuts for. I dig the biopic approach, and the sweeping epics about wars, etc, but for some reason, I'm more fascinated by something like this which is both a character study, but also a history lesson on the fine arts of how to go about getting oil. There's extended sequences that show in detail how this is all done, and I'm absolutely captivated by it all. This definitely isn't a film for everyone. For one, it's quite artsy. The first 14 and a half minutes have no dialogue, and serve as a great way to establish mood, tone, atmosphere, and the lengths our lead character will go to in order to succeed. And the final 15 minutes are an absolutely riveting and gut wrenching display of some of the greatest acting, dialogue, and confrontation I've ever seen. Even after repeated viewings, I still just blown away by how it all pans out. It's like a shotgun blast to the mind, body, and soul. It's also a quite lengthy film that's fairly leisurely with the pacing. Amazingly enough though, I really don't get that antsy while watching it, as I always find something to marvel over with each viewing. Being a Paul Thomas Anderson film, this is a sprawling and absolutely gorgeous film to look at. Robert Elswit's cinematography is unmatched, and there's some excellent long takes/tracking shots to boot. The period details, likewise, are spot on, and the era truly comes alive. Though just slightly distracting, Johnny Greenwood's score is also quite compelling and fitting, really capturing the frantic nature of what's going on. And then there's the acting. So much has already been said about it, so I'll just leave it at this: Daniel Day-Lewis is so phenomenal I kind of hate him, Not the character, since you're supposed to, but him. I'm so jealous of him, yet I would feel sad it he didn't exist. Watching him act is a dizzying, spellbinding, and mesmerizing experience. Paul Dano, while nowhere near the level of his costar, is also quite excellent. He's got a tough job here, but he pulls it off amazingly well. My only legitimate gripe with the film is that Paul Dano plays a dual role- that of twins Paul and Eli Sunday. Problem with it is that Paul Sunday is an important role, but he's there for one scene, then disappears. Wouldn't be so big a deal if not for the fact that Dano plays both Paul and his twin Eli, and, after Paul Sunday's one scene, he disappears with no explanation. Dano was supposed to just play Paul, and that's it, but then Anderson recast him to also play Eli, and rewrote the script accordingly. I think he should have just had him play Eli, get someone else as Paul, and then retool what happens to Paul, or maybe just explain what happens to Paul anyway, and keep Dano in the dual role. Even though that is a problem, that's the only real issue I can come up with. This film really is a brilliant masterpiece and one of the best/my favorite films of 2007. It's even close to being my favorite PTA film, and would be if not for my love of Boogie Nights. Bottom line, this is a must see. So go and do it.
Chris Weber
Super Reviewer
There Will Be Blood Quotes
| | |
| --- | --- |
| Daniel Plainview: | I drink your milkshake! I drink it up! |
| | |
| --- | --- |
| Daniel Plainview: | I have a competition in me. I want no-one else to succeed. I hate most people. |
| | |
| --- | --- |
| Daniel Plainview: | They Should have put you in a glass jar on the mantelpiece. |
| Daniel Plainview: | They should have put you in a glass jar on a mantlepiece. |
| | |
| --- | --- |
| H.M. Tilford: | How's your boy? |
| Daniel Plainview: | Thank you for asking. |
| H.M. Tilford: | Is there anything we can do? |
Discussion Forum
Discuss There Will Be Blood on our Movie forum!