Therese
(1986)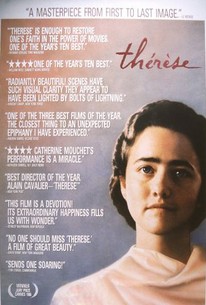 Movie Info
The legend of Therese Martin, canonized as a saint and popularly known as "the Little Flower of Jesus," is affectionately related in this 1986 French film. At 15, Therese (Catherine Mouchet) enters the convent, hoping to become a Carmelite nun. While preparing for her life as a "Bride of Jesus," Therese begins keeping a journal, eloquently pouring out her fervent spiritualism between its pages. Her unbending devotion to her calling seems to literally sap her of all strength; in 1897, she dies of tuberculosis, a profound loss for the other Carmelites who have come to love her as much as she loves Jesus. Therese is one of those rare films that is able to thoroughly convey the euphoria of spiritualism, rather than pay it mere lip service. After sweeping the 1986 Cesar Awards (France's equivalent of the Oscar), Therese went on to win the Cannes Film Festival Jury Prize.
Rating:
NR
Genre:
,
Directed By:
Written By:
In Theaters:
On DVD:
Runtime:
Studio:
Circle Releasing Corporation
Critic Reviews for Therese
Audience Reviews for Therese
Mar 2011 - I suspected my interest in this catholic portrayal of St Therese may have declined after nearly 20 years but it is as fresh as ever. The images are as powerful as the magnificent silence. And so much for Mouchet's face and her amazing portrayal of Therese. The movie concentrates completely on the human relations and emotions and avoids any divine intervention or presence and this makes it more a humanistic drama than it is a religious one.
Hossein N
[img]http://images.rottentomatoes.com/images/movie/coverv/42/204342.jpg[/img][b]Therese[/b] [i]dir[/i] Alain Cavalier I love a good European film, especially an in-depth, emotionally displayed French one. Therese is the story of St. Therese de Lisleux(Catherine Mouchet). She was a young French nun who died of tuberculosis during her work with the Carmelites. Potential for a moving story, eh? Sadly, despite the rather ample subject [i]Therese[/i] attempts to portray, what was seen here was an unsuccessful attempt at a Bergman homage. Therese is not all [i]Cries and Whispers[/i] though (natch). While Cavalier sets a wonderful pace and tone, and the actress playing the young saint-to-be is charming, the film fails to delve into any of the characters save for the father. We are led to believe St. Therese walked around with a sickly-sweet smile her entire days, and this is perhaps the sole reason she was canonized. There is little attention to her journal. We see her writing occasionally, and hear all of a handful of sentences. No growth or arc in this being at all. In fact, only one scene speaks to Therese's inner self: a key scene meant as a bookend where she assists an ailing elder nun. I expected more. :rotten:4/10*, but worth a look for the beautiful use of aspect ratio, if you have a strong stomach for illness scenes
Sookie Sapperstein
Therese Quotes
There are no approved quotes yet for this movie.