Thérèse
(2004)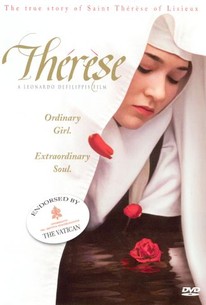 Movie Info
Thérèse Martin was born in 1873 to a working-class family in France. When Thérèse was only four years old, her mother died, sending the child into a cycle of depression. When she was 14, Thérèse experienced a spiritual epiphany and decided to devote her life to God; she wanted to become a Carmelite nun, and when she was told she was too young, she traveled to the Vatican and personally appealed to the Pope to allow her to join the order. Entering the monastery at a time when winds of intellectual and spiritual change were sweeping the world, Thérèse came to see the simple but sublime life of the nuns as an inspired path to spiritual contentment, and she wrote a powerful book about her religious awakening, The Story of a Soul. Published a year after her tragic death in 1897, Thérèse de Lisieux's autobiography gained widespread acclaim, and the girl known as "the Little Flower" was canonized as a saint in 1925. Thérèse is a feature film that tells the story of Thérèse de Lisieux's life and work, with Lindsay Younce in the title role; it is the first feature film for Leonardo Defilippis, an experienced actor and theatrical director.
Critic Reviews for Thérèse
Audience Reviews for Thérèse
A beautiful, and true story of an incredible and pious saint. Her simple and little path was her path to Heaven. She suffered greatly from her illness, but in the end she met peace. And that is the path everybody should try to find.
Catherine ..........
½
So-so story, a plus is it's simplicity, a minus being that the central characted is hardly enigmatic enough to make a film about. It leans on the sappy side as well. Well meaning.
James Higgins
I hate this movie. I had to see it for a religious class. It had some of the worst script with an ackward feel when characters spoke. Therese's sisters all had the exact same personality. There are many random shots. Like 5 times they showed a sunset or a moon or a crucifix or grass blowing and it had nothing to do with the movement of the plot. Almost the entire movie had music put it. If it didn't have the music it would have felt all wrong and you shouldn't have to keep us interested with only the score. If they would ever show where the character were inhabiting, they would show it only from the outside and the characters would never be in the shot. The camera was at eye level 90% of the time and it was very fussy. It was supposed to be raining, but couldn't distinguish it from the blurry picture.
Louis Rownd
Thérèse Quotes
There are no approved quotes yet for this movie.
Discussion Forum
Discuss Thérèse on our Movie forum!