These Amazing Shadows
(2011)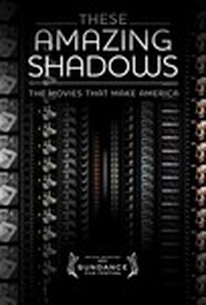 These Amazing Shadows Photos
Movie Info
The documentary These Amazing Shadows explains the importance of the National Film Registry, an organization that protects films they deem culturally and historically significant. The filmmakers interview some of the biggest directors of their time including John Lasseter, Rob Reiner, and Christopher Nolan.
Critic Reviews for These Amazing Shadows
Audience Reviews for These Amazing Shadows
A compelling and thoughtful documentary on an American system that is given little recognition or thought in our country today, the National Film Registry is a baron of treasured classics and iconoclastic materials. Starting with a brief history lesson on the origins of this national committee and its historical prowess, the film chiefly deals with the different kinds of film that are in the registry. The most obvious film choices are given enough breathing room, including showing clips from such titans as Citizen Kane, Gone with the Wind, and Casablanca. It talks about the historical importance of such cult classics as The Rocky Horror Picture Show and the Mel Brooks' Blazing Saddles. It also inspires a bit of a historian in us all with such things as home videos, documentaries, and silent films. It stresses the importance of advertisements, including the "Let's All Go to the Lobby," song we all know but can't reference with absolute certainty. It even speaks about Michael Jackson's "Thriller" and other significant pieces from American cinema history. The film also shows a decent amount of interviews with directors, actors, and movie making professionals. There are also some great interviews with board members, their reasons behind their choices, how these films, movies, shorts, anything, make them feel. One of the more interesting aspects is that they also follow preservation specialists with how they do their tedious jobs and the rewarding experience it gives them. The vaults of film reels are shown, the degraded texture and quality of films so private and beautiful; that it seems nearly implausible that they are left in such flagrant disrepair. Most of all it's a love letter to film, to our culture, and the importance of preserving it above all else. Truly a beautiful film for any film lover or American with a heartbeat.
Spencer S.
Super Reviewer
In 1986, Ted Turner, the owner of the MGM film catalog, decided to take classic black and white movies and colorize them. The hue and cry from those passionate about film preservation caused the formation of the National Film Registry in the Library of Congress. Starting in 1989, the Registry began selecting 25 celluloid marvels to save and preserve each year. At 525 films and growing, filmmakers Paul Mariano and Kurt Norton tell us the story of "These Amazing Shadows." The board was established by Congress in the late 1980s, and since 1989 has chosen 25 movies per year for inclusion in the Library of Congress's National Film Registry. The films must be "culturally, historically, or aesthetically significant,'' which leaves a lot of room to move beyond the "greatest hits'' mentality of the American Film Institute and other cultural list-makers. And in fact the most engrossing moments in "These Amazing Shadows'' focus not on "Citizen Kane'' and "The Godfather'' (or "Alien'' and "Back to the Future'') but more offbeat choices that say as much, if not more, about the movies' central place in documenting American culture for better and worse. The World War II-era "Topaz'' is actually one man's home movies of the US internment of Japanese citizens. A public-service documentary like "Duck and Cover'' portrays 1950s nuclear fears with now-campy naivete. No one needs to be told what the Zapruder film means to the national psyche. In addition to scenes from 160 of the 550 films in the registry, "These Amazing Shadows'' rounds up an illustrious roster of talking heads: directors like Christopher Nolan, John Waters, Barbara Kopple, and Wayne Wang; film critics Mick LaSalle and Jay Carr; actors Debbie Reynolds and Tim Roth; producers (Gale Anne Hurd), cinematographers (Caleb Deschanel). An unexpectedly poignant moment comes when Gregory Peck's son, Stephen, a Vietnam veteran, espouses the horrors of war, and how films such as The Deer Hunter, The Best Years of Our Lives, etc. have captured the plight of veterans -- and the absolute necessity to preserve these messages for future generations. The people you keep coming back to, though, are the preservationists themselves, dedicated young artisans with offbeat senses of humor and the passion to spend weeks at a time rebuilding a lost film frame by frame. George Willeman is exactly the sort of character you'd expect the Library of Congress's Nitrate Film Vault Manager to be, and he's great company as he describes the joy of discovering a pre-censorship print of the acrid 1933 Barbara Stanwyck classic Baby Face and getting it out to the world. The importance of recovering uncensored originals and plugging the holes in America's consciousness is only one of the messages here. The documentary surveys the genres covered by the registry, praises efforts to bring attention to women and minority filmmakers, considers the movies as social glue and cultural memory, and makes an implicit plea for continued congressional funding in these draconian times. Yet the mission of this film, the board, and the registry is summed up most simply in an offhand comment by board member and film scholar Robert Rosen: "Why would you want to save movies? I would ask, Why do we save family pictures?'' They're cultural artifacts, timestamps of bygone eras, and they transform us in a way no other medium can.
Jonathan Hutchings
Super Reviewer
½
Nice documentary highlighting the important preservation work being done by the National Film Registry.
Randy Tippy
Super Reviewer
These Amazing Shadows Quotes
There are no approved quotes yet for this movie.
Discussion Forum
Discuss These Amazing Shadows on our Movie forum!