They Rode West
(1954)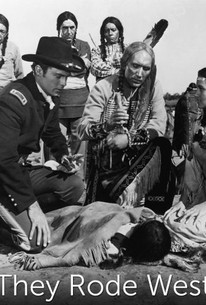 AUDIENCE SCORE
Critic Consensus: No consensus yet.
Movie Info
After Robert Francis became an "instant star" in Columbia's The Caine Mutiny (54), the studio rushed Francis into as many vehicles as possible. In They Rode West, Francis plays a young Army doctor, stationed at a remote cavalry post. The post's commander (Philip Carey) immediately clashes with Francis due to the latter's humanitarian attitudes towards Native Americans. When a malaria epidemic breaks out at a local Kiowa encampment, Francis insists upon treating the Indians, despite opposition from both Carey and the tribe's medicine men. May Wynn, Francis' Caine Mutiny vis-a-vis, is third-billed in They Rode West. Alas, Robert Francis' skyrocketing career plummeted to earth when he was killed in a 1955 accident.
Rating:
NR
Genre:
, , ,
Directed By:
Written By:
In Theaters:
Runtime:
Studio:
Columbia Pictures
Audience Reviews for They Rode West
Doctor Woodhawk A small town in the mid west is occupied by a military unit that struggles to find a worthwhile doctor to treat their soldiers. The military unit's responsibilities include observing and tracking several Indian camps. A new doctor arrives that cares equally about the soldiers and the local Indians that are infected with malaria. Despite the first worthwhile doctor arriving at the camp in some time, how will the soldiers deal with the doctor that also serves as a humanitarian? "He got an arrow in the leg." "And Dr. Gibson did the rest." Phil Karlson, director of Framed, Walking Tall, Hornets' Nest, A Time for Killing (1967), Rampage, The Big Cat, Black Gold, and the Shanghai Cobra, delivers They Rode West. The storyline for this picture is fairly generic and is a classic western with a "message." The action scenes were well done and entertaining. The cast delivered average performances and includes Robert Francis, Donna Reed, May Wynn, Peggy Converse, and Jack Kelly. "Would you mind not shooting me until I'm done treating them?" I came across this picture while flicking through the channels and decided to give this western a shot. Unfortunately, this was a fairly generic western that added little style and pizzazz to the genre. This seemed like it had the potential to add a nice twist to the cowboys and Indians storyline; regrettably, this fails to be an above average picture. "One mile of land for every five Indians." "Does that mean they're tame?" Grade: C+
Kevin Robbins
A typical standard western from the 1950's, but it is elevated by it's depth of storytelling and the always steady Donna Reed.
Robert Brass
Standard but decent military western with the doomed Robert Francis earnest if a bit stiff as a caring doctor. Donna Reed's character is a bit muddled coming off at first as a shallow flirt but she adds more depth to her as the picture goes along. Good production values and location filming help make the film more than it is.
They Rode West Quotes
There are no approved quotes yet for this movie.