They Call It Myanmar: Lifting The Curtain
(2012)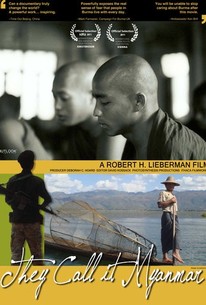 They Call It Myanmar: Lifting The Curtain Photos
Movie Info
Shot clandestinely over a 2-year period by best-selling novelist and filmmaker, Robert H. Lieberman, this film provides a rare look at the second-most isolated country on the planet. It lifts the curtain to expose the everyday life in a country that has been held in the iron grip of a brutal military regime for 48 years. This unique feature length documentary, culled from over 120 hours of striking images, is an impressionistic journey. Interviews and interactions with more than 100 people throughout Burma, including an interview with the recently released Aung San Suu Kyi, are interwoven with spectacular footage of this little seen nation and its people. -- (C) Official Site
Rating:
NR
Genre:
,
Directed By:
In Theaters:
On DVD:
Runtime:
Critic Reviews for They Call It Myanmar: Lifting The Curtain
Audience Reviews for They Call It Myanmar: Lifting The Curtain
We are given a gentle, touching narrative of the Myanmar people, largely a Buddhist nation which had an authoritarian government and lacks severely in education and human rights. Many children who were asked said they only had 1 or 2 years of school. No one can afford it. Child labor and the trafficking of young girls is heavy. And as in other countries in the area, there are hundreds of cultures and many different languages. It is hard to bring a country together that has so many different ethnicities, cultures, and potentially values. We get an informative glimpse at the past 80 years of Myanmar's history, environmental challenges, living conditions, and citizen's perspectives. My main complaint with this documentary may be an unjust one, but it felt a bit limited in the same way that a person's vacation footage only narrowly covers the country they explored. But since cameras were forbidden during the time of this production, the limitation is understandable, and Director Lieberman does provide a nice interview with an admirable and hopeful voice of democracy - only this politician, Nobel Peace Prize winner Aung San Suu Kyi, had been under house arrest for 15 years at the time of the film's production. Since then, some promising governmental moves have taken place and she has been released and elected into parliament. Her party, National League for Democracy, won 43 of the 45 seats available during the 2012 by-elections, after being unbanned just the year before.
Matthew Slaven
Super Reviewer
½
An insightful documentary into Burma, "They Call It Myanmar" provides an in-depth look into the daily lives of this most reclusive Southeast Asian nation. It shows how, despite the hardship and political oppression, the people of Burma are able to withstand all that with a smile. And at the end of the documentary, the audience are left not just to wonder about whether the Burmese people have gotten enough help from Western countries. We are also left with a hope, because even in the darkest of places, there are communities and groups of people who can always find a reason to smile.
Thomas Andrikus
½
Filming surreptitiously, Robert Lieberman has made a film that tells the story of Myanmar (which the British called Burma) today with images that are in turn beautiful and appalling and stories of individuals that are compelling. Myanmar is an exotic but isolated country that has suffered from decades of misrule and international isolation. Lieberman helps the viewer understand the people, history and current situation in Myanmar -- and to care about what comes next to these wonderful people in a benighted country. And he does so with great story telling craft. This is a documentary that will satisfy those who know a lot about Myanmar and fascinate those who know nothing about it. It is, in short, a must see.
Ken Brill
Discussion Forum
Discuss They Call It Myanmar: Lifting The Curtain on our Movie forum!
News & Features