They Crawl
(2002)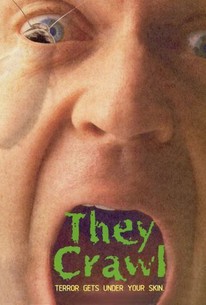 AUDIENCE SCORE
Critic Consensus: No consensus yet.
Movie Info
After a fiery wreck involving half the city and a runaway bus, the coroner (Ken Lerner) discovers that the bus driver's body has no internal organs, which is eerily similar to the body of a dead computer geek they also recently discovered. Former Special Forces dude Ted Gage Daniel Cosgrove, the brother of the computer hacker, begins an investigation with the lovely, skeptical detective Gina O'Bannon Tamara Davies. What they find is that a bizarre cult headed by Tiny Frakes (Mickey Rourke) is responsible for unleashing a mutant horde of cockroaches on the city. No amount of bug spray, or bad press, will stop these critters.
Rating:
R
Genre:
,
Directed By:
Written By:
In Theaters:
On DVD:
Runtime:
Studio:
LionsGate Entertainment
Critic Reviews for They Crawl
Audience Reviews for They Crawl
½
If you are going to put this much time and energy into something, then it should be done right. If this was supposed to make you want to do something else other than watch this film, then it succeeded.
Christina Evelyn
Cock roaches are not my favorite thing on earth, so that made this film particularly unpleasant. It has a decent pace, but it is poorly written and the story is really stupid. Dumb. Some of the special effects are good, some just stink.
James Higgins
They Crawl suffers from identity crisis. On one hand, the film wants to be a tongue-in-cheek killer cockroach flick, but on the other, it wants to be a crime drama. The film has a young man (Daniel Cosgrove) returning home from the military (preparing to be court marshaled) and finds that his younger brother has become distant from the world and deals in heavy drugs. When the brother mysteriously dies, Cosgrove is on the case, working with co-lead policewoman Tamara Davies. While the audience knows that most of the deaths are at the hands of cockroaches, the leads begin to suspect an infamous cult is behind the mayhem, namely one of its notorious members, played by pre-comeback Mickey Rourke (who still manages to command the screen, even at a whopping 5 minutes). The whole crime drama portion of this film is actually quite enjoyable and it kept my attention. It reminded me of a good Law & Order episode. However, the stuff involving the bugs and "horror" aspect was just plain BAD, especially when you get to the hilariously awful (intentional I would hope, but probably not) climax of the film involving the bugs turning into superbugs. Some small scale genre people show up briefly as well including Tim Thomerson (Dollman) and Grace Zabriskie (Galaxy of Terror). Overall, not a bad crime drama, but a terrible horror film.
Jason Duron
They Crawl Quotes
There are no approved quotes yet for this movie.