Thin
(2006)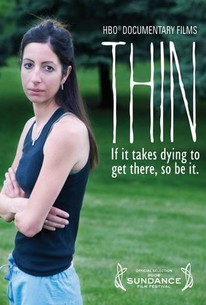 Movie Info
Feminist-minded photographer and filmmaker Lauren Greenfield details the ravaging physical and mental effects of anorexia nervosa by following four anorexic women between the ages of 15 and 30 as they struggle to recover from their illness over the course of six excruciating months at a Florida residential treatment center. As the complexity of the disorder emerges through scenes in which the afflicted struggle through dispiriting weigh-ins, revealing therapy sessions, and painful meal times, Greenfield offers a revealing look at the devastating effects of a media driven by impossibly high standards of physical beauty.
Rating:
NR
Genre:
,
Directed By:
In Theaters:
On DVD:
Runtime:
Studio:
HBO Documentary Films
Audience Reviews for Thin
Tough to watch. Its bizarre seeing people being miserable doing something that i have to stop myself from doing because i like it to much. A very well done and revealing doc.
Alex Wolf Rkc
All this Show says is MONEY IS ALL THAT MATTERS !!! once thees girls Insurance runs out they are given the boot weather they are well or not .. that rilly botherd me And that my friends is exactly wy those girls whent home and did the same things the staff at the hospital where so dam fat they made me wanna lose weight !!! and the control thing making those girls wimper like doggs and tell on each other wth is up with that your suppose to teach Streangth and Independance This show should have been called SICK not THIN !
angel marth
½
[color=Silver]I had Stumbled across the website for the HBO documtary [i]Thin[/i] awhile ago, but was never sure quite how to get my hands on it, due to the lack of Blockbusters around here, but then I thought..."Hey, youtube has everything!" And sure enough, I found[/color] [url="http://www.youtube.com/profile?user=quoth"]it[/url]. [center][img]http://i17.photobucket.com/albums/b89/RetroAnglophile/Random%20Movie%20Pics/thinframe.jpg[/img] [/center] [color=Silver] Many believe that eating disorders are about teenagers, and that it is a phase in which just about every teenage girl goes through, [i]Thin[/i] tells a different story. Mainly focusing on three women in their mid to late 20s, [i]Thin[/i] reveals the every lasting effect that having an eating disorder can have. Many have had an ED since childhood, and caused by many reasons; one has a twin, whom she has always viewed as the perfect one, and strives to be like, if not better, than her. Another is a mother of two, and at the age of seven, as told by her doctor that she was fat, and has thus been dieting ever since. [/color] [center][color=Silver][img]http://i17.photobucket.com/albums/b89/RetroAnglophile/Random%20Movie%20Pics/LG-Thin-020.jpg[/img] [/color] [/center] [color=Silver] The enviornment in which these women are put in is, in all honestly, like that of a prison, and in some conditions worse-the manner of how much they are watched. But, if you think about it, these women are commiting crimes against their bodies. When women enter, all of their bags are searched, complete with employees wearing rubber gloves, and later on, room searches. The relationships created at the clinic are very similar to that of high school cliques. Lies are told to authorities, you-cover-my-back-I'll-cover-yours ensue, and when the truth is told, who knows what's going to happen. You see how EDs turn women with college degrees, in their late 20s into children. As one girl cried, "I'm 28, and I'm a little girl with no period!" [/color] [center][color=Silver][img]http://i17.photobucket.com/albums/b89/RetroAnglophile/Random%20Movie%20Pics/Thin.jpg[/img] [/color] [/center] [color=Silver] An interesting aspect of this is when insurance runs out, girls are forced out. In northern Europe, this would never happen. I do honestly believe, corporate America is much more concerned about money than they are people. Directed by Lauren Greenfiled, she takes choses not to include narraration in her piece, instead letting the girls speak for themselves, and only putting in brief captions to create a bridge in a few moments. While I find the content is important and brings many of the truths about EDs to the surface, I feel it wasn't executed in the best manner--but I believe I could have been over critical, because of my own personal experiences. Still highly recommended.[/color] [color=White] Now I have to go get ready for my brother's birthday dinner...[/color]
Janey E.
Thin Quotes
There are no approved quotes yet for this movie.
Discussion Forum
Discuss Thin on our Movie forum!