The Thin Man
(1934)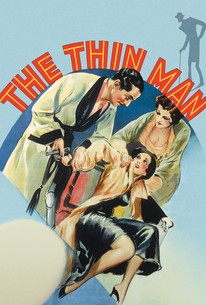 Movie Info
In this film, Edward Ellis plays a mean-spirited inventor. The recently-divorced Ellis discovers that his new girlfriend has stolen $50,000 and is carrying on with other men. Not long afterward, he disappears. Anxious to locate her father, Ellis' daughter Maureen O'Sullivan goes to private detective Nick Charles for help.
News & Interviews for The Thin Man
Critic Reviews for The Thin Man
Audience Reviews for The Thin Man
A husband/wife detective tandem work to solve a series of murders. The thirties style of slap-dash, madcap overlapping dialogue highlights the excellent performances of this very strong film. Comparing this film to the mysteries of today proves how much harder screenwriters of the old days had to work and how much more language was valued. Every line of this film is so witty and sharp, and William Powell and Myrna Loy never seem like people you know, but they always seem like people you wish you knew. The mystery, originally penned by Dashiell Hammett, is not terribly predictable, but it's solvable, which is the way mysteries should be. Overall, I enjoyed this film immensely, and it made me long to hear more dialogue from this era.
Jim Hunter
Super Reviewer
Glorious, Joyous dinner date with murder and laughter hand in hand. Powell and Loy are one charming couple.
Pierluigi Puccini
Super Reviewer
Some friends gave me the complete Thin Man series for Christmas, and I have to say after several viewings of all six that the pairing of William Powell and Myrna Loy is one of those matches made in Hollywood Heaven. There are few teams that leap to mind as being better suited to each other; their screen energy is a beautiful phenomenon to behold. Powell is already on my very select all-time favorite actors list, and I'm thinking that Loy is going up there right after I finish writing these comments.
What I find most interesting about the critical comments is not that almost everyone agrees that Powell and Loy are great, but that the series is short on story, flimsy of narrative, lacking in substance -- and one critic goes to far as to say that each successive film is weaker than the one before.
Sorry, I have to disagree. I think the stories are interesting, cleverly conceived, and well written. They are so smartly written, in fact, that the writers have managed to let the plot play in the background so that we can all concentrate on the chemistry of Powell and Loy. Seriously, if I were looking for great literature, I'd turn to the book shelf and dig around for Shakespeare or something, but just like the live audience members back when this series played the theaters, I'm here to see Powell, Loy -- and Asta -- make their magic. And I definitely think that the last one, Song of the Thin Man, is just as magical as the first : )
Lanning : )
Super Reviewer
The Thin Man Quotes
| | |
| --- | --- |
| Nora Charles: | Say, what's that man doing in my drawers? |
| | |
| --- | --- |
| Nick Charles: | The important thing is the rhythm. Always have rhythm in your shaking. Now a Manhattan you shake to fox-trot time, a Bronx to two-step time, a dry martini you always shake to waltz time. |
| | |
| --- | --- |
| Nora Charles: | [suffering from a hang-over] What hit me? |
| Nick Charles: | The last martini. |
| | |
| --- | --- |
| Nick Charles: | The murderer is right in this room. Sitting at this table. You may serve the fish. |