Things Behind the Sun
(2001)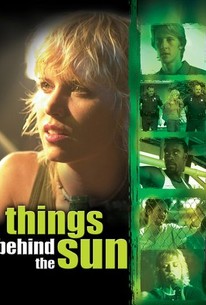 Things Behind the Sun Videos
Things Behind the Sun Photos
Movie Info
Writer and director Allison Anders, who used the world of rock & roll as the backdrop for her films Border Radio, Grace of My Heart, and Sugar Mountain, returns to the music scene for this tale of a woman struggling to come to terms with an emotionally devastating past. Sherry McGrale (Kim Dickens) is a punk-influenced singer and songwriter whose angry, deeply personal music has begun to win her a national following, though the demons that fuel her art are playing havoc with her life, as she drowns her sorrows in drugs and alcohol and fills a growing police blotter with arrests for disorderly conduct. Sherry is winning significant airplay for a song about the brutal rape of a young woman, and rock journalist Owen (Gabriel Mann) convinces his editor Pete (Rosanna Arquette) to assign him a major story on Sherry when he tells her he knows the truth about Sherry's own rape as an adolescent, which inspired the song. Owen is forced to run interference with Chuck (Don Cheadle), Sherry's manager and former boyfriend who is fiercely protective of his fragile client, but Owen is still able to meet with the singer. However, Owen finds that Sherry either can't or won't remember most of the details of the brutal and degrading assault, and she doesn't want to discuss the heavy toll it's taken upon her. Influential experimental rock group Sonic Youth contributed several original compositions for the film's score; Sherry's singing voice was provided by Kristen Vigard, who performed on the soundtrack of Grace of My Heart.
Critic Reviews for Things Behind the Sun
Audience Reviews for Things Behind the Sun
½
I caught this little gem on late-night cable during a bout of insomnia and do not regret it. It's about a rising rock singer, Sharry (Kim Dickens) who is suffering extreme anguish because of a gang rape she endured as a young girl. She hid the memory away but it surfaces later in her life as the inspiration for her moody music. She reacts by diving into alcoholism, drug use and casual sex. Her protective manager (Don Cheadle, in a brilliant performance) sees the potential in her, but he also sees the hurt that will forever temper the brilliant woman she might have been. Enter Gabriel (Owen Richardson), a reporter wishing to interview the troubled Sharry. What neither of them knows is that his brothers were responsible for raping Sharry, and countless other girls, so many years ago in his childhood home. He loves Sharry, and tries to make amends with the news that his oldest brother, the "ringleader", is now in prison. Unsurprisingly, this goes very poorly, and Gabriel quickly finds himself in over his head. This is in part because both Sharry and Gabriel have information about the other that neither is aware of, like the missing pieces of a puzzle that was better off unfinished. These epiphanies are clarified in a series of heart-wrenching confessions book-ended by disturbing flashbacks that are admittedly hard to watch but admirably realistic without seeming exploitative. As the truth slowly, painfully comes to light the characters are left with the gravity of their choices, and the reality that there is really nothing they can do but try to move on and make the right decisions. I liked that the movie handled the subject matter in a paced, sensitive manner without co-opting the tragedy with easy solutions or predictable reactions. I felt sorry for the characters, not because I pitied them, but because they did a good job conveying formerly spirited people whose lives had been ruined by something vile and hidden. Kim's performance augments this sense of hopelessness with full immersion into the part of Sharry. There are some raw emotions and loaded conversations to be found here. If you rape someone, you vicariously rape everyone around them. As the friend of a victim of such violence I brought a lot of personal feelings to the movie, and the progression of the plot and the perceptions of the characters brought many of those feelings back. On the acting, it's a proper balance between naturalism and stagecraft. Sharry and Gabriel both mix it up between a strange kind of confused disengagement with the situation followed by an urge to please everyone. There are some really great scenes, like when Gabriel confesses his involvement to Chuck. It's always just a movie but Cheadle's reaction caught me completely off guard and I could feel how physically afraid Gabriel must have been in that moment. I also liked the part where Sharry finally goes back to the house of her nightmares to get some closure, and finds something unexpected there. Behind The Sun also deserves high notes for its excellent soundtrack, which features contributions by Sonic Youth and Kristen Vigard tailored specifically for the film, and like the rest of this movie they find just the right tone and grab it.
In Your Dreams
Incredibly moving and daring. Although it is not an easy film to watch because it is graphic, it is an eye opening and emotional film that deserves attention. Anders' has created a deeply personal film to channel her inner thoughts and emotions and has come up with something that demands to be seen. Things Behind the Sun is a beautiful film.
Ben Eastman
½
This is a very brave, honest look at the long term effects of rape, both on the victim and on an unwilling victimizer. The fact it chooses to explore both angles is impressive, but there is much more to be found here as this is not at all a 'message' film. For example, I'd be hard pressed to name a film that is more in love with music, both specific songs and of it, the creative process behind it, the act of composing, the finished product, everything. This is the kind of film that understands how a song can, in a few minutes, often express much more than all the dialogue in the world, how the right music can have such a long lasting effect on a person. This film is remarkably powerful, with scenes of such searing honesty that they cut right to the bone of the viewer. The ending is as 'uplifting' as the circumstances allow, presenting the characters with the opportunity to grow from their experiences and look to a brighter future, but the last song is heartbreaking, reminding the audience of just how much these characters lost that one night, and how much they can never regain.
Things Behind the Sun Quotes
| | |
| --- | --- |
| Chuck: | I know who she is! I know who she is in her bones!...And that's who I'm hanging in here for...that sweet little girl who never had the chance... |
| Chuck: | I know who she is! I know who she is in her bones! And that's who I'm hanging in here for... that sweet little girl who never had the chance... |
| | |
| --- | --- |
| Sharry McGrale: | You didn't come here to help me. You came here to save your own ass. |
| | |
| --- | --- |
| Sharry McGrale: | Try living with the guilt knowing that the only way to get turned on is by acting out the very thing that ruined your life. |
| | |
| --- | --- |
| Sharry McGrale: | It's hard for me to be with the guys that I love. I's just easier to be with guys that don't matter or the ones that don't know me. |
Discussion Forum
Discuss Things Behind the Sun on our Movie forum!