The Third Miracle
(1999)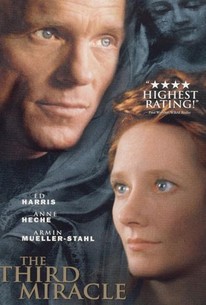 Movie Info
A priest finds his faith tested when he's assigned to investigate a possible case of divine intervention. Rev. Frank Shore (Ed Harris) is a Catholic priest who works as a postulator, a church official who investigates reports of holy miracles to determine their veracity. Some time back, one of Shore's investigations had ugly repercussions, and now he devotes his time to running a soup kitchen. But he's called back to service by Bishop Cahill (Charles Haid) when a number of Catholics begin calling for the canonization of the late Helen O'Regan, who is alleged to have performed miracles and whose statue is said to weep tears of blood. Shore begins digging into O'Regan's life and the miracles she is supposed to have performed; in his travels, he meets Maria (Caterina Scorsone), a teenage girl who was supposedly healed by O'Regan, and Roxane (Anne Heche), O'Regan's daughter, who was abandoned by her mother, wants nothing to do with her story, and has given up her belief in God. While investigating the miracle of O'Regan's statue, Shore witnesses the bleeding himself and tells the church that he believes the claims are legitimate. However, this view leads to angry reprisals from Archbishop Werner (Armin Mueller-Stahl); Shore's story is not given any greater credence when he become romantically involved with Roxanne. The Third Miracle was released only a few months after Stigmata, another story of Catholic priests investigating allegations of a modern-day miracle, not the sort of subject one might have expected to become a trend.
People Who Like this movie also like
Critic Reviews for The Third Miracle
Audience Reviews for The Third Miracle
½
[font=Century Gothic]"The Third Miracle" takes place in Chicago, 1979 where Father Frank Shore(Ed Harris) is called back to his duties after an eight-month sabbatical in a flophouse following his debunking of a particularly popular nominated saint, in the process destroying the faith of an entire community. Bishop Cahill(Charles Haid) wants him to investigate the possible sainthood of Helen O'Regan, a parish worker who died several years before. On the anniversary of her death, a statue of the Virgin Mary bled, curing a young girl of terminal lupus and now the parishioners are thinking it was the spirit of Mrs. O'Regan...[/font] [font=Century Gothic][/font] [font=Century Gothic][/font] [font=Century Gothic]"The Third Miracle" is about faith but the movie cheats by bringing up the possibility of miracles and sainthood. I liked how it explores the conflict between the poverty of the neighborhood(although they need material help, not just something to believe in) versus the wealth and power of the Catholic Church but there was something off in how Chicago was portrayed. [/font] [font=Century Gothic][/font] [font=Century Gothic]Ed Harris gives a monumental performance but he receives little support. Even the usually reliable Anne Heche and Armin Mueller-Stahl do not help. And Charles Haid simply chews the scenery. [/font]
The Third Miracle Quotes
There are no approved quotes yet for this movie.