The Third Miracle
(1999)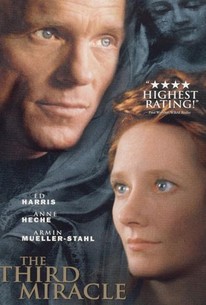 Movie Info
A priest finds his faith tested when he's assigned to investigate a possible case of divine intervention. Rev. Frank Shore (Ed Harris) is a Catholic priest who works as a postulator, a church official who investigates reports of holy miracles to determine their veracity. Some time back, one of Shore's investigations had ugly repercussions, and now he devotes his time to running a soup kitchen. But he's called back to service by Bishop Cahill (Charles Haid) when a number of Catholics begin calling for the canonization of the late Helen O'Regan, who is alleged to have performed miracles and whose statue is said to weep tears of blood. Shore begins digging into O'Regan's life and the miracles she is supposed to have performed; in his travels, he meets Maria (Caterina Scorsone), a teenage girl who was supposedly healed by O'Regan, and Roxane (Anne Heche), O'Regan's daughter, who was abandoned by her mother, wants nothing to do with her story, and has given up her belief in God. While investigating the miracle of O'Regan's statue, Shore witnesses the bleeding himself and tells the church that he believes the claims are legitimate. However, this view leads to angry reprisals from Archbishop Werner (Armin Mueller-Stahl); Shore's story is not given any greater credence when he become romantically involved with Roxanne. The Third Miracle was released only a few months after Stigmata, another story of Catholic priests investigating allegations of a modern-day miracle, not the sort of subject one might have expected to become a trend.
Rating:
R (for some language, sex-related and violent images, and brief drug use)
Genre:
,
Directed By:
Written By:
In Theaters:
On DVD:
Runtime:
Studio:
Sony Pictures Home Entertainment
Critic Reviews for The Third Miracle
Audience Reviews for The Third Miracle
½
Ed Harris, Anne Heche; directed by polish director Agnieszka Holland. In this drama, the Vatican sends a cynical priest to verify miracles performed by a woman who has been nominated for sainthood. During this investigation, the priest rediscovers his lost faith & passion. Anne Heche can ACT; Ed Harris is wonderful as the priest.
Carrie Shuping
My very favorite Ed Harris movie! He plays a priest who is conflicted in his vocation due to his lingering worldly qualities of intellect, intimacy and guilt. The plot revolves around his role in presenting a case for the sainthood of a Chicago housewife - a task that forces him to confront his relationship with God. Armin Mueller-Stahl also delivers a great performance as the Devil's Advocate. Anne Heche was a bit thin (no pun intended)in her role as the priest's would-be lover - a role that called out for someone more vulnerable and luscious. And then there's the compelling soundtrack, but I gush... By all means, rent this movie. And watch for the the exquisite expression on Ed Harris' face when Heche leaves him sitting at the bar. I've never seen so many feelings revealed in one face as those he manages to put forth in that brief instant of film. Harris needs more roles like this that allow us to experience his tenderness and depth.
Susan Mitchell
Excellent movie about a priest who questions his Faith and a woman who finds hers through him....I enjoyed this one very much!
Anne Q
The Third Miracle Quotes
There are no approved quotes yet for this movie.