This Beautiful City
(2007)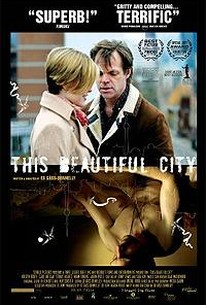 This Beautiful City Photos
Movie Info
Chatter from a dinner party in Harry and Carol's nouveau riche condo drifts through an open balcony door, as two freebase cokeheads, Pretty and Johnny, have a party on their own in the alley below. As the dinner guests leave, the hostess is nowhere to be found. Until, a wet thud and a sharp scream rise up to the balcony. Pretty stares in horror at Carol's body, splayed on the alley floor, as Harry screams for help from above. The sharp burst of police sirens sends the cokeheads running as Peter, a middle aged police officer, sprints from his cruiser to check Carol's vitals. Rocket forward three months and these five disparate lives begin to cataclysmically intersect through weaving multi-narrative story arcs that release spurts and geysers of long-suppressed sexuality and aggression. Beautiful things can happen when you hit rock bottom.
Rating:
NR
Genre:
,
Directed By:
In Theaters:
On DVD:
Runtime:
Studio:
Watch it now
News & Interviews for This Beautiful City
Critic Reviews for This Beautiful City
All Critics (7) | Top Critics (5) | Fresh (1) | Rotten (6)
Gass-Donnelly tricks up this phony baloney with nervous camerawork and editing while also stranding his actors with scads of second-rate dialogue. A bad time is had by all.
Los Angeles Times
Top Critic
The only real notes of authenticity are struck by the actors, and even then, only on the distaff side.

Gass-Donnelly's over-calculated, crisis-fueled script links yuppies, crack addicts and a cop, with few signs of its origins as the writer-helmer's stage play Descent.

Too much of the...film is bombast and street noise.
Globe and Mail
Top Critic
Audience Reviews for This Beautiful City
Nominated for four Genie Awards...? Yeesh. This was a painful film to watch, and not in a good way. It tries to push some boundaries by finding commonalities between a "normal" couple and a junkie/prostitute couple, hinting at power dynamics in sexual relationships while giving you a window into destructive addiction and rehabilitation from what may or may not have been a suicide attempt. Drama by omission just doesn't work for me, and the main flaw is that the answer is clearly on film, just cut out; it doesn't leave you wondering, it just annoys you. The film's last third gets watchable, finally, when some of the threads start to come together, but it's too little, too late, and for the record, I'm getting really tired of the "Surprise, everyone in this movie knows each other!" ending (still more drama by omission). Yes, I spoiled the ending. With any luck, you'll not bother to watch it.
Daniel Perry
Super Reviewer
½
One of those movies with several characters who wind up connected in a highly implausible story. I actually tend to like that sort of movie, and this one has it's moments. Makes Toronto look very ugly, violent, and depressing, and populated with some terrible people. The city always has struck me as the opposite, but then I don't live there.
Roy Smith
This gritty depressing film runs at a weary pace.
Discussion Forum
Discuss This Beautiful City on our Movie forum!
News & Features