This Property Is Condemned
(1966)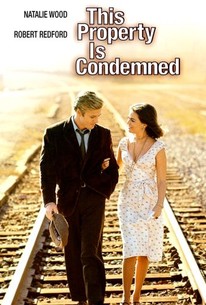 This Property Is Condemned Videos
This Property Is Condemned Photos
Movie Info
Based on a play by Tennessee Williams, this screen version (after falling into the hands of screenwriters) tells of the struggles of a young woman as her mother attempts to manipulate her love life. Natalie Wood stars as Alva, who falls for Owen (Robert Redford) when he stays at her mother Hazel's (Kate Reid) boarding house. After Hazel lies to Owen that Alva is marrying someone else, he leaves town. A spiteful Alva marries her mother's violent lover, J.J. (Charles Bronson). The day after the wedding, she comes to her senses and goes after Owen, but her mother interferes again, revealing the marriage to Owen. Alva is then traumatized beyond repair and her life falls apart in usual Williams fashion. This drama also includes performances by Mary Badham, Dabney Coleman and John Harding among others.
Rating:
PG-13
Genre:
, ,
Directed By:
Written By:
In Theaters:
On DVD:
Runtime:
Studio:
Paramount Pictures
Critic Reviews for This Property Is Condemned
Audience Reviews for This Property Is Condemned
She's the main attraction. A railroad official rides into a small town to deliver some news. During the heart of the railroad age, some towns contained brothel like establishments similar to some truck stops in the modern era. The official stays at a brothel in the town but more for room and board than the treats. However, he falls for the madam's daughter. The daughter lives in the clouds and has dreams of doing great things. Will the official and daughter make things perfect for both sides? "A man takes a drink. A drink takes a drink. The drink takes the man." Sydney Pollack, director of Tootsie, Out of Africa, The Firm, The Interpreter, Absence of Malice, Bobby Deerfield, The Way we Were, and The Scalphunters, delivers This Property is Condemned. The storyline for this picture is remarkably well done. I adored the characters and Alva's character was awesome and reminded me so much of someone that was in my life. The acting was perfection and the cast includes Robert Redford, Charles Bronson, Natalie Wood, Kate Reid, Mary Badham, and Robert Blake. "Don't tell him." I randomly came across this film because it stars Charles Bronson. I thought Robert Redford and Charles Bronson would be an interesting combination for a film. I thought Robert Redford and Natalie Wood were amazing in this picture. This is one that keeps you thinking about it after you see it. I really recommend this classic. "This property is condemned but ain't nothing wrong with it." Grade: A+
Kevin Robbins
½
Excellent story, with Wood perhaps not properly catching the free-spirited party gal as well as she could have. Overall though, solid performances from an interesting cast. This was Pollack's first big movie behind the camera, and it was the right film for him.
Christopher Bergan
½
★★1/2 (out of four) Not one of the best of playwright Tennessee Williams dramas. The playwright himself was so upset with the adaption, he tried to get his named removed from the film credits. Natalie Wood plays a young woman living in a small town in 1930's Mississippi. Her manipulative mother wants her to marry a wealthy local man. But she has fallen for the good-looking loner from New Orleans. (Robert Redford). He wants her to run away with him. It's not a bad film, what it does wear on you after a while. Natalie Wood's character isn't that captivating for the central role and it just feels like a leftover from Tennessee Williams. [IMG]http://img.photobucket.com/albums/v48/Zeppo1/Thispropertyiscondemned.jpg[/IMG]
Steve Smith
This Property Is Condemned Quotes
There are no approved quotes yet for this movie.
Discussion Forum
Discuss This Property Is Condemned on our Movie forum!