This Thing of Ours
(2003)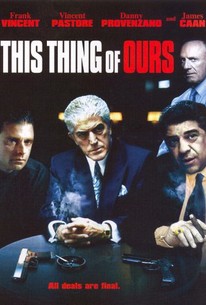 This Thing of Ours Videos
This Thing of Ours Photos
Movie Info
Grandnephew of the famous mobster known as Tony Pro, Danny Provenzano is the co-writer, director, and star of the independent crime drama This Thing of Ours (the title is a literal translation of the crime organization La Cosa Nostra). Provenzano plays young mobster Nick Santini, who wishes to impress his Uncle Danny (Frank Vincent) and the other elders of a New Jersey mob. Nick plans a major bank heist with his old pal Robert Biaggio (Christian Maelen) and computer geek Austin Palermo (Louis Vanaria). Using a complicated Internet scam to distort a communications satellite, they plan to steal more than 50 million dollars. Nick is eventually stuck with having to choose between his friends and the mob when high-ranking Patsy DeGrazio (Michael DelGaizo) kidnaps Austin. This Thing of Ours also stars Vincent Pastore (The Sopranos), James Caan (The Godfather), and Pat Cooper (Analyze This). Incidentally, Provenzano was arresting in 1999 under a 44-count felony indictment that included charges of racketeering, kidnapping, and money laundering. He eventually pleaded guilty to racketeering and was scheduled to begin a ten-year prison sentence in August 2003, just weeks after his film is released.
Rating:
NR
Genre:
Directed By:
Written By:
In Theaters:
On DVD:
Runtime:
Studio:
Critic Reviews for This Thing of Ours
Audience Reviews for This Thing of Ours
½
Danny Provenzano brings crime dramas down low with This Thing of Ours. While the concept is fitting for a mob story, in which this film is told, the execution is poor. For 95 minutes of screen time, the plot details lack depth and the characters constantly deliver lines of dialogue, meant to be witty, but come across as cheesy. Ultimately, this picture is as bland as its production value. The constant cursing is for a mature audience, as is the violence, which is backed by cheap sound and blood effects. Ultimately, there is more than enough profanity, but not enough bloodshed. There are some familiar faces in the crowd, although the question is why. Frank Vincent is okay. James Caan is an absolute waste. Louis Vanaria, Christian Maelen, and Danny Provenzano take the leads in unsatisfactory fashion. This Thing of Ours has very little to showcase and is therefore a film to be clipped.
One of the very few films that portrays the living of modern day mafia members (the younger ones though). This is the real thing, something you just have to see to adjust our outdated Godfather or GoodFellas bifocals. SEE the entire film here: http://www.youtube.com/watch?v=kTlJqyFSzt4&feature=watch-now-button&wide=1 [img]http://t1.gstatic.com/images?q=tbn:ANd9GcSMHEcee2OHCUW0SyLezHZ1QcEOMkPkqnfLrN-es5HEhdkAaM4q[/img] Using the internet and old school mafia traditions, a crew of young gangsters led by Nicholas "Nicky" Santini attempt to pull off the biggest heist in the history of the mafia. This Thing of Ours is a crime/drama film released in 2003 starring Frank Vincent, [img]http://t0.gstatic.com/images?q=tbn:ANd9GcRCurC6yvF62MwEDl8AJ7jImeBPicJ7jDTBNZxsNpNohs8h5v6e[/img] Danny Provenzano, Edward Lynch, Vincent Pastore and James Caan. The title is a reference to the Italian term Cosa Nostra-"Our Thing"-which refers to the Sicilian or American Mafia. [img]http://t0.gstatic.com/images?q=tbn:ANd9GcTBdOm4lHW03_H1pXcKH_byL3BY2dEe5sxlJ6-jYrhfqb2yy5V_dQ[/img] 80% I think this was a great movie. It may not be the most updated movie, but it was great. There is action, the wayt the mafia works, how thay see things... [img]http://t3.gstatic.com/images?q=tbn:ANd9GcRHxVTjBde2eniqxj3jBUQU0U6313gHiRU5RglgPif2IDA7TTgv[/img] Cast Danny Provenzano - Nicholas Santini Frank Vincent - Danny Santini Edward Lynch - Johnny "Irish" Kelly Vincent Pastore - Skippy James Caan - Jimmy "The Con" !!!!!!!!!!!!!!!!!!!!!! Chuck Zito - Chuck Louis Vanaria - Austin Palermo Christian Maelen - Robert Biaggio Michael DelGaizo - Patsy DeGrazio Pat Cooper - John Bruno Vinny Vella - Carmine Joseph Rigano - Joe Tony Ray Rossi - Anthony Russo Jonathan Doscher - Agent Clark [img]http://t3.gstatic.com/images?q=tbn:ANd9GcTTjeOzigIpx0VBJ3RRZA1r3fdHJeBPGFLDZXOpe44DARIL9w3SbQ[/img] Directed by Danny Provenzano Produced by Ted A. Bohus Michael DelGaizo Written by Ted. A Bohus Danny Provenzano Distributed by Maverick Release date(s) July 18, 2003 (U.S.) Running time 100 min [img]http://t0.gstatic.com/images?q=tbn:ANd9GcQ09Ge4tdqnmlFB087JGNXkVRhrcr8s12k6WER6hXWM0MjXacdJkw[/img]
monsieur rick
I think this was a great movie. It may not be the most updated movie, but it was great. There is action, the wayt the mafia works, how thay see things, I think it was just good! I would see it again for sure without a problem, and enjoy it again. *Sponsored Post
Luv Latinfilms
This Thing of Ours Quotes
There are no approved quotes yet for this movie.
Discussion Forum
Discuss This Thing of Ours on our Movie forum!