Thomas & Friends: Misty Island Rescue
(2010)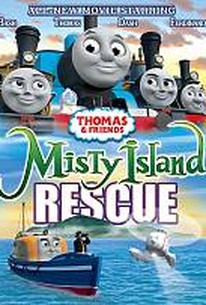 AUDIENCE SCORE
Critic Consensus: No consensus yet.
Movie Info
A new Search and Rescue Centre is being built on the Island of Sodor and requires special red 'Jobi' wood. As Diesel races to carry the wood, he almost falls over a cliff edge and the wood goes crashing into the sea! Like a Really Useful Engine, Thomas comes to the rescue of Diesel and is rewarded with a trip to the mainland. On his way, Thomas becomes separated from the ship and is stranded on the mysterious Misty Island where he meets new engines- Bash, Dash and Ferdinand! Sir Topham Hatt launches a search party to bring Thomas home. But will they find him? Find out in Misty Island Rescue, the movie!
Rating:
NR
Genre:
,
Directed By:
Written By:
On DVD:
Runtime:
Studio:
Audience Reviews for Thomas & Friends: Misty Island Rescue
I usually don't watch cartoons with Thomas & Friends, but my little boy discovered the magic of these machines and we had to watch together the adventures of these mechanical characters in this CGI one hour special. I never watched Thomas & Friends in CGI animation, and this one done by Nitrogen Studios Canada Inc. was a real treat. The film celebrates 65 years of Thomas the Tank Engine, and I am glad I joined the celebration watching it! The story of the building of new Search and Rescue Center at Sodor, which will serve as the base operations for Harold, Rocky, and a new lifeboat named Captain, was entertaining, educational, inspirational and full with good advices for the little ones. The happenings around the rare wood called "Jobi wood" which has arrived from Hiro's homeland to be used in completing the Centre were involving little children fully, as well as the parents. Not that just all of the engines were excited about this in the movie and wanted to help deliver the wood to the Search and Rescue Centre, with them were hundreds of little heads sitting on the laps of parents cheering along. If your little ones need some excitement without an actual scare, lots of wise and inspirational advices, many enjoyable characters visiting awesome places, please, check this cartoon! You will enjoy it, too... though, a little advice: never forget that this is made for little children. :-)
Whimsical and cute! Some suspense without being too scary for younger children. Short for a "movie", but feels long enough when you watch it. My son just loves Thomas & Friends. He collects the trains and has watched a number of the original series. This was our first foray into the newer Thomas adventures, and I thought it was well done and kept much of the original flavor and ideals. Animation (versus the original's use of real-life models) has both pluses and minuses. On the plus is the allowance for greater flexibility in camera shots, more animation of the figures themselves and a wider allowance for possible storylines. On the negative, there will always be something magical about real-world objects when done as well as the original series was. As for this particular outing, it involves a mysterious island, colorful new characters and adventure as always. The narration is well done, as are the character voices (one major difference with the originals, which are all voiced by the same narrator). The scariest moment being a near "deadly" plunge off the train tracks to the cliffs below. Nothing too frightening, good values (usefulness, obedience, friendship, etc) and charming visuals should appeal to younger children. It's also nice to have storytelling without frenetic action... a good choice for parents.
Sums ItUp
Thomas & Friends: Misty Island Rescue Quotes
There are no approved quotes yet for this movie.