Threads
(1984)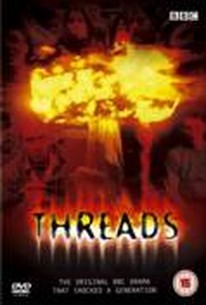 AUDIENCE SCORE
Critic Consensus: No consensus yet.
Movie Info
Originally produced by the BBC, Threads is a shattering speculative tale the onset of World War III, and the horrors of the post-apocalyptic society that struggles for survival. The film takes place in the ruins of Sheffield, a British working class town. Despite the fact that the world seems to be falling apart all around them, a young couple (Karen Meagher, Reece Meagher) intend to go ahead with their upcoming wedding. As the date draws near, however, simmering international tensions soon erupt into global thermonuclear war. In the devestation that follows, the apocalyptic erosion of society sends mankind hurtling back hundreds of years into an age where famine, strife, pestilence, and death wash over the land like an unrelenting flood of venomous bile. The central theme of the film seems to be that the adage "Life Goes On" just isn't good enough in a world doomed to a slow death by radiation. Without resorting to shock or sensationalism, this one makes The Day After and Testament look like kids' stuff. Though not picked up by any of the major American networks, Threads was widely distributed in the US through the auspices of cable mogul Ted Turner. ~ Hal Erickson, Rovi
Critic Reviews for Threads
Audience Reviews for Threads
An excellent dramatization of a nuclear attack in England whose unique power is hidden in that it demonstrates nuclear devastation under the most positive of circumstances ("what if we knew it was coming and had time to prepare for it?"), underlining the stark reality unfolded. It casts serious shade on other stories of this type but yet, while an superb work that is by no means a feel-good movie but it's certainly one that cannot help but provoke good thought.
Kevin M. Williams
Super Reviewer
In this VERY graphic dramatisation of a city during the lead up to nuclear war and the following fall-out, we're shown that things would be completely horrible. Got to ask...did anyone think it would be sunshine, peaches and ice-cream all round?
Marcus Woolcott
Super Reviewer
brutal stuff!!! very realistic, this is graphic and morbid..ultimately depressing..but movie production values are high and not much is held back...not exactly entertaining but is gripping drama if apocalypse genre is your thing...
Threads Quotes
There are no approved quotes yet for this movie.