Three Men in a Boat
(2007)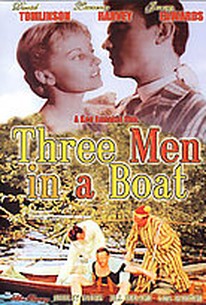 AUDIENCE SCORE
Critic Consensus: No consensus yet.
Movie Info
Rating:
NR
Genre:
On DVD:
Runtime:
Critic Reviews for Three Men in a Boat
There are no critic reviews yet for Three Men in a Boat. Keep checking Rotten Tomatoes for updates!
Audience Reviews for Three Men in a Boat
To Say Nothing of the Dog? I am gravely disappointed. Sorely disappointed. I read the book, which is delightful. It's this bizarre cross between a very good travelogue of a trip up the Thames (apparently, all the inns and pubs are still open) and a rather Victorian sitcom. There's a slightly-less-delightful sequel, though it's still worth reading, and a science fiction novel that references it so completely in places that the title of the novel is the same as the end of the title of this novel. When I was young--I don't remember how young, but it was while Bravo was still playing art films all the time--I saw a clip of a movie based on this. It was the 1975 made-for-the-BBC version starring Tim Curry, and about the only thing I remember from it is the scene wherein they first rhapsodize about the marvels of tinned pineapple and then discover that, while they have brought tinned pineapple, what they have not in fact brought is a tin opener. It's a great scene. It appears in this movie, but it's trying harder to be funny and therefore isn't as funny. That version is not available on DVD, I regret to say. J (David Tomlinson), George (Laurence Harvey), and Harris (Jimmy Edwards)--to say nothing of Montmorency--decide that they need to get away from their lives and, in the case of J and Harris, wives. (Montmorency is rather along for the ride, of course, being a dog and all.) The obvious solution to this is a boat trip up the Thames to Oxford, of course. They're going to do it the proper way, too--no silly, nancy-boy inns for them. They're going to camp out under God's great sky. Only they encounter rain. Lots of rain. So that's no fun. And there is some odd business with three women who, for reasons I cannot fathom, decide that J, Harris, and George are the most desirable men they've ever seen. This despite all the evidence, which shows that they're basically useless gits. Also for reasons I cannot fathom, J and Harris as far as I can tell are pretending not to be married and pretty much just stringing the girls along. Though I don't think they think they are. Or something. I was quite hoping this would be good. This is based on funny source material, and while it would need to be trimmed to make a movie out of, there is all that travelogue stuff, the details about all those little villages and things up along the Thames. It's interesting, certainly, and I rather like it, but there's no real purpose to putting it in the movie. Maybe a miniseries. But anyway, they could quite safely trim it out. However, they trimmed out a lot of the actually funny stuff and put in the weird stuff with the girls that isn't in the book. They also, I note, move it forward in time. The book was written in 1889, but the movie refers at some point to its having been the twentieth century. Early twentieth century, I'd say. Perhaps the oughts or the teens. I'm not sure why they do this, though, because it doesn't really make much of a difference. It's all the other bits that do. For example, why do people put so much time and effort into putting romances where they aren't needed? For one thing, while Harris (I believe) is married in the sequel, the three men are all single in this one. They go on the trip largely because they're hypochondriacs who think the bracing river air will cure what ails them. There's no real point to throwing in the women. They don't add to the story. They provide distractions that keep us from getting to it. There's a strange interlude where they're at a party, and Harris sings Gilbert and Sullivan. The ending cricket match makes absolutely no sense. And both of those are hung on the idea of the young women. (One of whom is Shirley Eaton, who would go on to be killed by gold paint in [i]Goldfinger[/i]. See also [i]MythBusters[/i].) And honestly, they should have picked one. Wives or young women. There really isn't a need for both. We have quite enough goings-on to fill a movie, especially one just under an hour and a half, without it. To do this movie right would take a more subtle touch than director Ken Annakin seems to have had. (He died just a few months ago, too.) I mean, I like [i]Swiss Family Robinson[/i], but subtle it is not. Too, this has been shot in that colour film that makes the movie look colorized, even though it isn't. The scenes that, in the book, are lighthearted gadding about are here lengthy, tedious slapstick. Okay, it's rather hard to do the pineapple scene any other way, I grant you. However, I don't think it was done at all well here. It seems to go on quite a long time, which I seem to recall it did in the Curry version, too. However, still, it didn't seem as long. Largely because it wasn't as tedious. All the wacky bits here seem to go on a bit too long, a bit past where it would be best to stop. I almost started fast-forwarding, a dreadful habit of Graham's when watching movies he thinks are best seen in vignette. I hate the idea of doing it. But oh, I came close here.
Edith Nelson
Three Men in a Boat Quotes
There are no approved quotes yet for this movie.