3 Needles
(2006)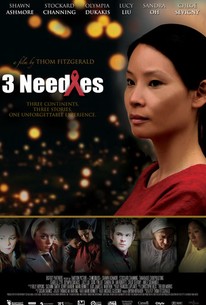 Movie Info
"Three Needles" is a drama that visits rural China, a plantation in South Africa, and Montreal's porn industry, to tell three separate yet universal stories, rooted to struggles with the HIV pandemic. In China, Ping is a pregnant young woman running a black market blood collection scam that creates a mini epidemic in a rural village. In Montreal, Denys is a porn actor hiding his positive HIV status in order to continue working and supporting his mother--who herself goes to extreme lengths to provide for the family's future. And, in Africa, Sister Clara is a young novice nun, driven to convert the rapidly dying Africans to Catholicism before it's too late; she makes a desperate bargain with a corrupt plantation owner to help prevent the spread of HIV in the region, bringing two nuns, who are of her same order, to accompany her on the journey.
Rating:
R (adult situations)
Genre:
Directed By:
Written By:
In Theaters:
On DVD:
Runtime:
Studio:
News & Interviews for 3 Needles
Critic Reviews for 3 Needles
Audience Reviews for 3 Needles
½
I thought all 3 stories were done excellently. Stockard Channing broke my heart in her portrayal of the Mother who gave her all. I think Olympia Dukakis is one of the best, although not a personal favorite role.
Steven Espinosa
My review back in 2007: Although this movie is filled with good actors, it falls very short of a captivating, inspiring, or intelligent story on the AIDS crisis. I was not fan's of any of these actors or the director, but due to the story subject I was willing to give it a try. The best story was the intial full story ripped from the headlines about AIDS being passed onto innocent Chinese rural citizens. What I was surprised at was that they do not touch on the cover up. After an initial sad, but very truthful story the movie goes quickly downhill from there. The second story is an idiotic and selfish story, that puts in a twist, but doesn't pay off and only is weird. I felt no sympathy for any of the characters in that second story. The third story show's the writer and director's total misunderstanding of Catholic theology, nuns, and their views. Then essentially makes a saint out of a Nun who pimps herself out to a rich western business man for the sake of the dying AID's children to make her out as some saint. It ends up being a sad and idiotic moral to a very real crisis in Africa. This story is not like Babel other than being a losely connected story in various countries. Babel shockingly showed human connection through pain, but this story instead shows nothing of the sort. Instead, it uses a very real crises as a backdrop to some interesting story telling and outright mischaracterization of a faith and promotion of some Unitarian feel good afterschool hogwash.
Ted Rohe
½
3 Needles is a great discussion tool for World AIDS Awareness Day that never achieves coherent shape as a three-paneled drama.
Lee Mayo
3 Needles Quotes
There are no approved quotes yet for this movie.
Discussion Forum
Discuss 3 Needles on our Movie forum!