Three Outlaw Samurai
(1968)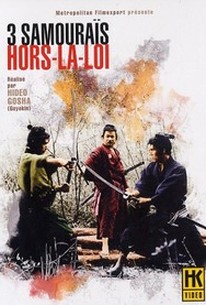 AUDIENCE SCORE
Critic Consensus: No consensus yet.
Three Outlaw Samurai Photos
Movie Info
A battle-scarred ronin (Tetsuro Tamba) gets caught up in a murderous plot involving a pair of samurais (Mikijiro Hira and Isamu Nagato) dispatched on a murderous mission of vengeance. An unscrupulous magistrate's daughter has been abducted by a rebellious band of peasants, prompting the malevolent dignitary to order their immediate execution. But as the magistrate's henchmen prepare to carry out their bloody deed, they encounter a solitary ronin who has no fear of death, and a strict code of honor. A feature length prequel to the popular Japanese television series of the same name, Three Outlaw Samurai was the debut feature from acclaimed chanbara specialist Hideo Gosha (Sword of the Beast, Death Shadow). ~ Jason Buchanan, Rovi
Critic Reviews for Three Outlaw Samurai
All Critics (2) | Fresh (2) | Rotten (0) | DVD (2)
duly impressive in both its strong, unadorned narrative pacing and its rich cinematography

It's not that no good deed goes unpunished, just that good deeds, like bad ones, are most likely to go for naught.
Audience Reviews for Three Outlaw Samurai
Shiba (Tetsuro Tanba) is a wandering samurai who's seen it all. He stumbles onto some peasants who have taken the magistrate's daughter hostage in hopes of ending the corruptive leadership that plagues their land. What begins as a spectator sport and a roof over his head for Shiba turns into him fully supporting the peasants and their cause. Two other samurai; Sakura (Isamu Nagato) another wanderer with a guilty conscience and Kikyo (Mikijiro Hira) a samurai who milks the magistrate for all he's worth eventually join up with Shiba. An epic duel to the death lies ahead for the three samurai as the magistrate will stop at nothing to get revenge. Three Outlaw Samurai begins in simple yet extravagant fashion. We see Shiba take a few steps in the mud followed by an extremely loud music cue and the title card written in Japanese Kanji. Six seconds into this chanbara film and I already know I'm going to love it. The film buys its time though as the first half of the film is mostly very talkative and swords are drawn only briefly before lengthy discussions begin once again. The storytelling is a high point as loyalty and the overall cause for all of this mayhem are always both relevant to the events taking place on screen. The cinematography is also brilliant, especially since this is the debut of Hideo Gosha. The well-choreographed and intense swordplay sequences are always captured with the most precise camera placement. Lighting and shadows also play a big part in how the film is presented visually. The one-shot sword fight in the two-story whore house is the best example of this. Right down to the drastic lighting on Kikyo's eyes before everything goes to hell, Three Outlaw Samurai is the type of film fans of samurai, foreign, and great cinema in general dream of. There's something completely gratifying about blood presented in black and white, as well. Maybe it's because it reminds me of the Crazy 88 fight The Bride has at the tea house in Kill Bill, but the crimson liquid almost seems more gratifying in grayscale at least when it comes to older and more legendary motion pictures. The best exchange of dialogue comes when Sakura is running across a field to support Kikyo and Shiba in the final battle. Sakura yells, "Hey Shiba! I've done you wrong! I deserve to die! Kill Me!" In the heat of battle, Shiba merely replies, "I'm busy at the moment." While Three Outlaw Samurai may seem a bit slow at first, your patience will be rewarded. You'll become attached to the characters of Sakon Shiba, Kyojuro Sakura, and Einosuke Kikyo, get absorbed in their cause, and understand their decisions. As the swordplay and action becomes more frequent, you'll realize how truly amazing this film really is. Three Outlaw Samurai is a beautiful, well-written, and just a fantastic experience overall that is for fans of Seven Samurai, Shogun Assassin, and The Last Samurai.
Chris Sawin
½
"Three Outlaw Samurai" looks stunning on it's new Criterion released Blu-ray and is showcasing Hideo Gosha's skill even during his first feature film! The story is simplistic and basic but is conveyed with such depth and beauty, it is far from just a standard samurai flick. The cinematography is beautiful and catches the beautiful backdrops and scenery as well as all the action going on throughout the struggles of the peasants and samurai. The film features detailed and realistic swordplay and is a pleasure to watch for the duration of the film. While the story is basic it is also very witty as well and puts the samurai honor code (Bushido for those of you in the know) on it's rear and challenges many traditional Japanese ideals. A key example is near the end of the film when all the evil samurai have been defeated all the peasants have to do is take the petition to the Lord who is right in front of them, yet no one steps up due to fear. In the end the three outlaw samurai have done great good and stood up for what's right but the peasants they fought for don't appreciate or step up to the plate and essentially made the three's struggle in vain. This realistic and poignant realization is quite unique and really says what the Director wants to say about people and culture.
Chris Browning
Super Reviewer
An idealistic portrait of ronin, with kind of a Three Musketeers feel. Quite enjoyable, though I prefer my samurai treacherous and opportunistic.
Jeffrey Fawcett
Three Outlaw Samurai Quotes
There are no approved quotes yet for this movie.
Discussion Forum
Discuss Three Outlaw Samurai on our Movie forum!