Törst (Thirst) (Three Strange Loves)
(1949)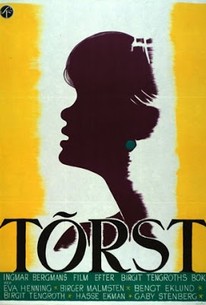 Törst (Thirst) (Three Strange Loves) Photos
Movie Info
A couple's relationship begin to unravel during a rail trip through Europe in this drama, an early work from legendary Swedish filmmaker Ingmar Bergman. Rut (Eva Henning) is a former ballet dancer whose career has been sidelined due to an injured knee, while her husband Bertil (Birger Malmsten) is a slightly prickly academic. Rut and Bertil are traveling though Germany from Switzerland while their friends at home are celebrating the rowdy annual observance of Midsummer; much of Europe is still mired in poverty and disarray in the wake of World War II, and their vacation generates more tension between the two than positive feelings. As the couple's train rolls through the ravaged nation, flashbacks introduce us to other characters in the drama -- Raoul (Bengt Eklund), a military officer with no conscience who has an affair with Rut, and Viola (Birgit Tengroth), a friend of Rut from her days in dancing school who had a fling with Bertil and has fallen into a deep depression over her romantic and sexual confusion. Torst (aka Thirst) was adapted from a short story by Birgit Tengroth, who also appeared in the film as Viola. ~ Mark Deming, Rovi
Critic Reviews for Törst (Thirst) (Three Strange Loves)
Audience Reviews for Törst (Thirst) (Three Strange Loves)
½
In "Thirst," Rut(Eva Henning), a dancer, loves Raoul(Bengt Eklund). She is heartbroken when he tells her he is married with children. Even worse, is when the Mrs.(Gaby Stenberg) shows up at their apartment unannounced. At least, her next relationship works out better, as she gets married to Bertil(Birger Malmsten), an assistant lecturer. So while they talk about their finances on their honeymoon, she also relives the torment of a botched abortion that has left her sterile. Three years into his directing career, this is more like the Ingmar Bergman we are very familiar with. Sure, a lot of "Thirst" is pure melodrama but there is also a lot of metaphysics included here in this depiction of a radiply changing post-war Sweden. In fact, this seems positively provocative not only for then(what with one character being a lesbian and all) but maybe even a little for today, framed around not condemning Rut for having an abortion and ending with a conversation involving a minister who seeks to reform the notion of marriage, with the chauvinistic Raoul being the villain of the piece. While there is one great scene involving a crowd outside of a train, the editing leaves something to be desired as the scenes involving Viola(Birgit Tengroth), Bertil's ex who might have endocrinitis, no elephantitis, no wait, encephalitis, feel like a different movie entirely. And either all of the characters are from the same social circle or Sweden has a really small population.
the film starts a bit slow and meanders through the first half, but when it picks up it becomes a very interesting character study involving such difficult topics as suicide and abortion. bergman flexes his visual style in new ways in this film. overall very interesting.
"Thirst" is one of Bergman's first films the Director made and is a complex and detailed look into the lives of several troubled and isolated characters. The film utilizes four different narrative structures in which the various characters are within and yet all are connected through their despair and longing for something more. The film captures the characters and their problems, both with one another and with themselves in such an intricate and personal way in which only Bergman could capture. While not quite up with his masterworks you know you are watching a Director more than capable and advancing in the field of cinema at a rapid and yet refined pace!
Chris Browning
Super Reviewer
Törst (Thirst) (Three Strange Loves) Quotes
There are no approved quotes yet for this movie.