Three the Hard Way
(1974)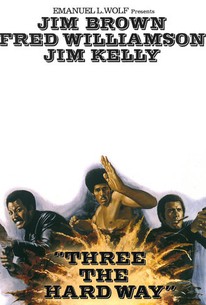 AUDIENCE SCORE
Critic Consensus: No consensus yet.
Three the Hard Way Photos
Movie Info
In this film, three men take on a neofascist organization. The avowed purpose of this all-white hate group is to "cleanse" Los Angeles, Detroit, and Washington D.C. of all blacks. To do this, they plan to poison the drinking water with a secret formula that affects only African Americans.
Rating:
R
Genre:
, ,
Directed By:
Written By:
In Theaters:
On DVD:
Runtime:
Studio:
Allied Artists
News & Interviews for Three the Hard Way
Critic Reviews for Three the Hard Way
All Critics (4) | Top Critics (2) | Fresh (1) | Rotten (3)
Dully predictable, thoroughly gratuitous after the first few minutes as the possibilities for genuine suspense are forsaken in favour of a three-figure body count and several automobile demolition clichés.
New York Times
Top Critic
Far-fetched and a bit comic-bookish, but filled with all you'd want from the genre and then some.
Audience Reviews for Three the Hard Way
An LA music producer (Jim Brown) runs afoul of a paramilitary organization that plans to kill every black person in America by introducing a disease to the water supply. They kill his buddy and kidnap his lady love (Sheila Frazier), but the bad guys didn't count on their quarry calling in a karate master (Jim Kelly) and a weapons expert (Fred WIlliamson) for backup. Three The Hard Way was directed by Gordon Parks Jr. after his success with Superfly and, while it didn't make as much impact, this blaxploitation effort is noteworthy for how its threadbare plot is strung up by frequent car chases, constant explosions, numerous gun fights, cheesy overacting, kung fu grappling, and a very bizarre pretext to feature topless women. Three The Hard Way is pulpy sleaze, but that's part of the fun.
Ryan Valentine
No, this is not a porno about a three way. The title is referring to three Blaxploitation heroes: Jim Brown, Fred Williamson and... cough cough... Jim Kelly. Hell that's enough stars for three Blaxploitation films! Well two good ones and... errrmmm... and a Jim Kelly one. Well does having three Blaxploitation heavy weights... errmm.... two and Jim Kelly, mean this will have three times the entertainment value? Not quite but it's a hell-of-an entertaining Blaxploitation piece of cheese that's for sure. Well we have some rich white bigots (typical of these genre films) who have an evil scheme up there sleeves... they want to release a disease into the water systems of three major cities that will only kill off the black population. Now it's up to three old friends (Brown, Williamson and... errrm... Kelly) to use their wits, firepower and biceps to crush these white bigots and save Browns girl. Director Gordon Parks Jr. broke out into the Blaxploitation genre with the hit "Super Fly" and he nails another home runner with "Three the Hard Way." He loads the film up with some great jive dialogue and kick ass senseless action scenes. He other words he makes this loads of fun. The most bizarre yet amusing sequences involves three dominatrix's hired by our three heroes to get a goon to talk and in turn end up killing him with a heart attack. God I loved that! The cast is the main attraction here as one would expect. Jim Brown and Fred Williamson play their typical blaxploitation hero types: Brown as the strong, silent type and Williamson as the mouthy, cocky smartass. Even Jim Kelly is far more stomachable than in his other outings in the genre, most notably the bloated "Black Belt Jones" and it's despicable sequel "Hot Potato". The acting is below par but no-one ever accused these guys for being good actors. The plot is definitely out there.... I mean rich white bigots trying to kill off the world's population of blacks with a disease is pretty controversial and would never fly in today's cinema. This is the early seventies and it's all in good Blaxploitation fun so don't take the plot to heart. The cast is a Blaxploitation fans dream come true and it's a damn shame Brown and Williamson didn't do very many movies together (Forget about Kelly). Sure the acting can be deplorable at times but these are cult, genre films and in this case the bad acting adds to the charm of the film. This may not be Blaxploitation at its most respectable but it sure is one of the most entertaining. You can't tell me a film with martial arts, gun play, tough guy posturing, afros, a comic book tone and a plague killing plot can't be somewhat fun. For mindless fun "Three the Hard Way" is worth the price of admission.
Eric Reifschneider
Jim Kelly, Jim Brown, and Fred Williamson star in an action film directed by Gordon Parks, Jr. with music by The Impressions!?!? HOLY SHIT!!! This sounds like a blaxploitation dream come true. For as fun and entertaining as this movie is however, it is a disappointment since it is not the masterpiece it had the potential to be. That's a damn shame too. I still like this movie, even though it failed to live up to my expectations. The plot involves a group of white supremacists who plot to town the water supplies of three major American cities. The substance they plan to use is lethal...only to African Americans. It's actually a pretty interesting idea. I now know where they came up with the similar plot used in Black Dynamite. The main issue with this film is the script itself. Things are pretty thin and undercooked ,and there's no real character developent. In fact, I can't really remember how the characters are supposed to be connected. I should probably dock this one some more points, but the csst is good, and they're pretty likeable, and the action rocks. That, and the music is pretty hard to dislike as well. Overall, this is a fair enough action romp, even if it's flawed and leaves something to be desired.
Chris Weber
Super Reviewer
Three the Hard Way Quotes
There are no approved quotes yet for this movie.
Discussion Forum
Discuss Three the Hard Way on our Movie forum!