Three...Extremes (Saam gaang yi)
(2005)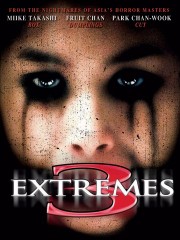 Three...Extremes (Saam gaang yi) Trailers & Photos
Movie Info
Three Asian directors, from Hong Kong, Korea, and Japan, join forces to create an omnibus horror film, Three...Extremes. In Fruit Chan's "Dumplings," shot by Christopher Doyle, Mrs. Li (Miriam Yeung), a thirtysomething former actress with a philandering husband (Tony Leung) goes to visit Aunt Mei (Bai Ling), who sells the most expensive dumplings in Hong Kong. Mrs. Li knows about their rejuvenating powers, and she also knows about their unpleasant main ingredient, but after some initial nausea, she digs right in. In Oldboy writer/director Park Chan-wook's "Cut," a successful filmmaker (Lee Byung-hun of Joint Security Area) arrives home to find that a disgruntled extra (Lim Won-hee) has taken over his home, and fastened his pianist wife (Kang Hye-jun of Oldboy) to the grand piano. The madman threatens to cut off the wife's fingers, one by one, unless the director strangles the helpless child he's tied to the couch. Takashi Miike directs the last segment, "Box," about a young author and former circus performer, Kyoko (Kyoko Hasegawa), seemingly haunted by the ghost of her twin sister, who died a mysterious and horrible death while practicing their act. Adding to Kyoko's trauma, her editor (Atsuro Watabe) is a dead ringer for her old stepfather/ringmaster, who may have perished in the same "accident" that took her sister's life. Three...Extremes was shown at Subway Cinema's New York Asian Film Festival in 2005. For the American release of Three...Extremes, the order in which the films are presented was altered from the original "Box," "Dumplings," and "Cut" to "Dumplings," "Cut," and "Box." This film was actually preceded by another omnibus film, Three, that was nevertheless retitled Three...Extremes II for the English-language market and issued after this one. ~ Josh Ralske, Rovi
more
Rating:
R (for strong disturbing violent content, some involving abortion and torture, and for sexuality and language)
Genre:

Art House & International

,

Horror

Directed By:

Takashi Miike

,

Fruit Chan

,

Chan-wook Park

,

Ji-woon Kim

,

Nonzee Nimibutr

,

Ji-woon Kim

,

Nonzee Nimibutr

Written By:
Hiroyuki Fukushima, Peter Chan, Lilian Lee, Haruko Fukushima
In Theaters:
Oct 28, 2005 Wide
On DVD:
Feb 28, 2006
Runtime:
Cast
News & Interviews for Three...Extremes (Saam gaang yi)
Critic Reviews for Three...Extremes (Saam gaang yi)
Audience Reviews for Three...Extremes (Saam gaang yi)
Bruce Bruce
Super Reviewer
Three...Extremes is an anthology of three horror films by three respected Asian directors.

"Dumplings" - Directed by Fruit Chan

In Dumplings, an actress who has entered middle age and begun to lose the attention of her husband to an affair with a younger woman visits Aunt Mei, an old woman who still has the looks of her youth. Aunt Mei has a secret recipe that makes anyone look years younger, but such an unnatural benefit comes from a truly abominable source. I found Dumplings to be absolutely stomach-churning. A horror movie that doesn't even attempt to scare you, but actually tries (and succeeds, in my case) to horrifying you. Not for the squeamish. Even the sound effects eventually became almost more than I could bear. Disturbing and entertaining. - 4/5

"Cut" - Directed by Chan-wook Park

A talented director and his wife are taken captive by a murderous, utterly insane movie extra. Cut is darkly comedic, utterly absurd, and far more meta than the other movies in this collection. It took me a while to figure out whether I liked it or not, but by the end of the segment, I was won over. Like Dumplings, Cut isn't frightening in the conventional sense. Instead, it's flat-out zany (in a good way). - 3.5/5

"Box" - Directed by Takashi Miike

The most haunting of the three segments. Box is about a jealousy-fueled tragic accident involving two young sisters. The surviving sibling suffers from suffocating (literally) dreams and disturbing visions of her deceased sibling, even years later as an adult. Box is probably the creepiest of the three, and it has a psycho-sexual aspect to it that makes the whole thing even more unsettling. Definitely more of an atmospheric, "mood" movie than the other two. - 4/5

I liked all three segments, as well as the movie as a whole. I found Dumplings to be the most effective/entertaining, but I recommend the entire anthology. The three short films are not only memorable and very different from one another, but they're also fairly unique among the other horror movies that I've seen.

Overall - 4/5
Dumplings - 2.5/5
Cut - 3.5/5
Box - 3/5
Discussion Forum
Discuss Three...Extremes (Saam gaang yi) on our Movie forum!
News & Features