Thunderstruck
(2004)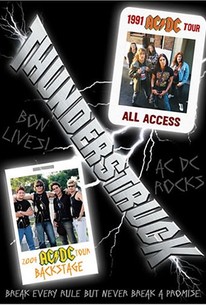 Thunderstruck Videos
Thunderstruck Photos
Movie Info
Thunderstruck begins with the death of a boy who shared with his closest friends an affinity for the music of the rock band AC/DC. The survivors pledge to pay tribute to their fallen friend by burying him next to the late lead singer of the band Bon Scott. Over a decade later the survivors reunite to follow through on their commitment, but soon learn that the intervening years have affected them and their relationships. ~ Perry Seibert, Rovi
Rating:
NR
Genre:
,
Directed By:
In Theaters:
On DVD:
Runtime:
Studio:
Cast
Critic Reviews for Thunderstruck
Audience Reviews for Thunderstruck
After nearly dying after an AC/DC concert, five fans decide that the first of them to die would be buried next to their idol, Bon Scott. And so, twelve years later four of the gang regroup to take a road trip and bury their pal Ronnie who was -you guessed- thunderstruck. As always, I start with the positives. The acting in this film wasn't too bad, especially for an independent. The unfortunate fact is that these five friends are never really characterized very well as such, and have only a few brief moments that prove their connection to each other. Ronnie's character was hardly developed at all, and thus it doesn't carry enough weight to warrant the plot of the film. Even though the script has plenty of wit & clever plot twists, it fails to be anything more than a simple road trip flick. But there's another crucial element to the film that drags it down further than it should have. These four guys are supposed to be hardcore rock fans. And they just don't pull it off. The fact that the plot is based around this fan-dom sinks the ship like loose lips. It's so generalized, a few changes could really make this about any band. I see what the film is trying to accomplish, but it just doesn't do it very well. It doesn't deliver any sense of "hardcore" about it. And the heart that's meant to carry between the comedy is hardly there at all. Over all the clever script and half-decent acting can't keep this bland, overly-formulaic road trip comedy from living up to American cinema, much less Aussie, as the charm slowly deteriorates from beginning to end. And it paints a pale portrait of its fan-dom that it seems to have so much love for. In a word, I was underwhelmed. "Thunderstruck" gets 3.5 red hats out of 10.
Shane Vitticore
Damn I never thought I?d actually see anyone look hot in Golf Clothing. & Sam Worthington is. Oh yeah also in a long wig looks kinda like axl Rose!! LMAO. About a group of friends who LOVE Ac/DC & while at a concert promise each other that whoever dies (first?) is to be buried next to him. So one of them die first (in a kinda ?freak? accident if you call it that) & go on a road trip to make good on that promise. funny, & it made me think of a few movies at once (not in a bad way) just element wise. I don?t recall any movie I?ve seen having a plot like this. Sam Worthginton w/ Long hair kinda looks like Axl Rose!! Lol) was fun. As well as how ?scary? or far some fan devotion can be. B
Kym (c my community profile) Salvatore
Super Reviewer
Discussion Forum
Discuss Thunderstruck on our Movie forum!
News & Features