Tickets
(2005)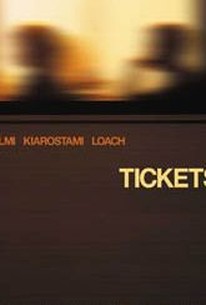 Movie Info
During a journey from Central Europe to Rome, characters connect through casual encounters and set forth a story of love, chance and sacrifice. One older businessman finds solace and a new insight into life when he is forced to wait at the train station due to bad weather. A young man is reminded of life's obligations but is also introduced to love. And three Scottish youths on their way to the football match of their dreams are forced to open their eyes and see the bigger picture. One single train journey sparks many changes for many people.
Rating:
NR
Genre:
, ,
Directed By:
Written By:
On DVD:
Runtime:
Studio:
Medusa Film
Critic Reviews for Tickets
Audience Reviews for Tickets
½
More benign than Three...Extremes and less uneven than Eros, Tickets offers a triptych of slender yet genuine delights.
Lee Mayo
½
I like this movie. Enjoyable beginning to end. There is no overall story arc, so don't look for that. Just travelers, on a train. Not a travelogue, not at all: a journey of personal interactions. Vividly portrayed, realistic, convincing. Not lacking for drama though!
Hal Morris
½
"Tickets" is remarkable for an omnibus movie as the segments directed by Ermanno Olmi, Abbas Kiarostami and Ken Loach are all set on the same plane of reality of one train heading south from Vienna to Rome. Like most other omnibus movies, it is wildly uneven with the best segment being the first by Ermanno Olmi which transcends the message of the need to make connections: An old professor(Carlo Delle Plane) is infomred by a younger assistant(Valeria Bruni Tedeschi) that all flights have been canceled and that he will have to take a train back to his native Italy. On the train, he thinks back to her kindness in making the necessary reservations and guiding him through the train station, made more difficult by the presence of miltary troops. By moving at a slower pace, the professor actually has the time to decompress, think, reflect and take in his surroundings, as the chronology is scrambled to follow the pattern of his thoughts, perfectly capturing the essence of train travel. Abbas Kiarostami joins the train in Italy the following morning, as calm has descended. However, things are about to heat up with new passengers including an older woman(Silvana De Santis) and her young companion, Filippo(Filippo Troiano). On an already full train, a microcosm of the real world where peaceful resolution is key, she refuses to cooperate twice with her fellow passengers, causing trouble, even when she is right. Nearing Rome, Ken Loach brings a bit of Scotland on board with Jamesy(Martin Compston), Frank(William Ruane) and Spaceman(Gary Maitland), three supermarket workers traveling all the way to Rome to cheer on their favorite soccer team in a Champions League game. The guys are soon confronted by the possibility that there may be more important things in the world than their favorite sport, as stereotypes are shattered all around.
Tickets Quotes
There are no approved quotes yet for this movie.