Tied Up
(2004)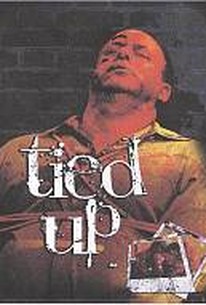 AUDIENCE SCORE
Critic Consensus: No consensus yet.
Movie Info
A simple heist takes a gruesome turn when the ringleader of a group of young thieves reveals his true motivations at a critical point in committing the crime. Case has been deceived, and he's not about to take it lying down. Realizing that his four cohorts would never willingly go along with his diabolical revenge plot, he persuades them that he knows a way to make some quick cash. But Case isn't interested in a simple breaking and entering job; he's got something far more sinister in mind. Upon arriving at their destination, the group quickly realizes that something isn't right. There's no easy money here, and there's no turning back now either. Now Case has everyone exactly where he wants them, and before the night is over they will all know the true meaning of suffering.
Critic Reviews for Tied Up
There are no critic reviews yet for Tied Up. Keep checking Rotten Tomatoes for updates!
Audience Reviews for Tied Up
Calling this movie a B movie would be too flattering. This is in fact a D or F movie at best. I wouldn't even consider this a movie really. It's a bunch of high school kids with a video camera mushing together a story with gratuitious sex and violence that they didn't even seem to take seriously. For that matter -- I've seen high school productions that were done better. To use "low production" and "no budget" as an excuse would be insulting to so many other movies.. even others that failed miserable.. this one is just pure trash. Seriously.. when it comes down to it. I'm less embarrassed by the Josie and the Pussycats music video my roommates and I shot in wigs when we were drunk in our apartment at film school 10 years ago. I'm more embarrassed for them and this mess. I can only hope they were high - which surely they were - to at least explain how they got through this.. and high again when they edited their names into the credits.. and high again when they found a distributor.. and high again when they got all 14 of their friends to get this a 7.4 rating on IMDb. I'm really trying to figure out why I'm rating this 1 star instead of 1/2.. and I can't find a reason.. so let me go up and fix that -- 1/2 star it is.
Nick Grimm
Super Reviewer
Tied Up Quotes
There are no approved quotes yet for this movie.
Discussion Forum
Discuss Tied Up on our Movie forum!