Tim sum fun si wong (Super Fans)
(2007)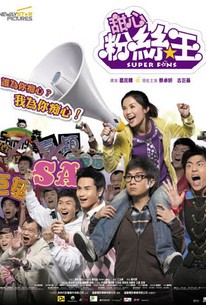 AUDIENCE SCORE
Critic Consensus: No consensus yet.
Critic Reviews for Tim sum fun si wong (Super Fans)
There are no critic reviews yet for Tim sum fun si wong (Super Fans). Keep checking Rotten Tomatoes for updates!
Audience Reviews for Tim sum fun si wong (Super Fans)
This film uses a popular element of real life, but also something that you don't see all that often as the driving point for a film. Definitely a great concept to start this movie.
The movie begins as you would expect it from looking at the cover and hearing the title. Highly energetic, funny, and entertaining. You get some pretty hilarious dialogue and some slapstick comedy thrown at you. Unfortunately, this film doesn't stay that way. This film is classified as a comedy and a drama. The first half of this 90 minute film gives you the comedy. The film then takes a turn and slows down into a drama. It almost speeds up again for the last 20 minutes or so, but it never really reaches the type of film that you are fed in the first half.
The acting isn't all that bad. It is a little over the top at times, especially for Sammy Leung, but it actually worked for the first half of the film. The lead is played by one half of the "Twins," Charlene Choi, and she does a nice job as the happy-go-lucky Sussie. Charlene is really showing her maturity in acting with each film that she does, proving to me that she is the better actress of the two. Leo Ku's character, Shui, is really bland and gets a little boring at times. I guess you needed a character like this to counteract Charlene's Sussie. You actually feel a little sorry for his character when you see all the things he goes through, but can't help but laugh at times.
This is definitely not the greatest or funniest movie out there, but it is still worth the watch in my book.
Tim sum fun si wong (Super Fans) Quotes
There are no approved quotes yet for this movie.