Zamani barayé masti asbha (A Time for Drunken Horses)(Intoxication for Horses)
(2000)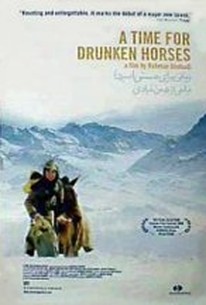 Zamani barayé masti asbha (A Time for Drunken Horses)(Intoxication for Horses) Videos
Zamani barayé masti asbha (A Time for Drunken Horses)(Intoxication for Horses) Photos
Movie Info
Former assistant director to Abbas Kiarostami and star of Samira Makhmalbaf's Blackboards, Bahman Ghobadi makes his directorial debut with this gritty, documentary-like look at Kurdish orphans struggling to survive. Shot in the village where the filmmaker grew up, the film unsentimentally depicts how children are packed in trucks and driven to the city to perform such menial jobs as wrapping parcels or, more likely, carrying large boxes like pack mules. Though Ayoub is all of 12 years old, he has become the head of the household, which includes his severely disabled older brother -- who is also deathly ill. In order to pay for an operation that might prolong his life, Ayoub joins a group of smugglers who traffic truck tires to Iraq. Negotiating landmines and dodging border guards, they struggle to get their overburdened mules through snow covered mountains by plying them with alcohol. Later, the eldest sister agrees to marry an Iraqi Kurd, under the belief that the groom's family will pay for the operation. This film was screened at the 2000 Cannes and Toronto film festivals. ~ Jonathan Crow, Rovi
Rating:
NR
Genre:
,
Directed By:
Written By:
In Theaters:
On DVD:
Runtime:
Studio:
Shooting Gallery
Critic Reviews for Zamani barayé masti asbha (A Time for Drunken Horses)(Intoxication for Horses)
Audience Reviews for Zamani barayé masti asbha (A Time for Drunken Horses)(Intoxication for Horses)
½
Zamani Barayé Masti Absha (A Time for Drunken Horses) (Bahman Ghobadi, 2000) I have no idea what, exactly, Bahman Ghobadi, a Kurdish filmmaker currently best-known for his film No One Knows About Persian Cats, was thinking when he came up with the plot of A Time for Drunken Horses. Nor what he was ingesting, since I find it very hard to imagine that this movie, or at least some of its stranger details, was conceived by someone in a perfectly sober state. Needless to say, this ups the interest factor on what might otherwise be the kind of movie that some folks might call "one of those movies where nothing happens." They're wrong, of course, but you know exactly the type of movie I'm talking about, the kind that generally appeals to critics and art-film nerds, but that most of the public couldn't care less about. Have you ever seen an Abbas Kiarostami movie? Than yeah, you know what I'm talking about. Kiarostami, too, is Iranian. He's somewhat better-known than Ghobadi. I'm not sure why; both of them are quite good at what they do, both of them take a lot of chances in their work, and both of them have quietly amassed a corpus that is as deep as it is pretty. But first you've got to scratch the surface hard enough to get at what's underneath, and I seem to have talked myself into helping you figure out how to do that with A Time for Drunken Horses, Sit back, relax, etc. As with most slice-of-life movies, A Time for Drunken Horses is essentially plotless for much of its length. It centers on a family of smugglers working the Iran-Iraq border. After the father of the clan is incapacitated, twelve-year-old Ayoub (like all the film's principals, in his only screen appearance) is forced to take over the business, both to feed his family and to save money for the medical care of his handicapped brother Madi (Madi Ekhtiar-dini). The family dynamic is interrupted when the family's uncle negotiates the hand of oldest daughter Rojin (Rojin Younessi) in marriage, which they hope will provide enough of a dowry to pay for an operation for Madi. The film's title refers to the alcohol-spiked water Ayoub and the other smugglers feed their pack mules both to keep them working and to fend off the cold in the Iranian mountains; work too hard, give them too much, and the animals get drunk. With Ayoub working overtime, the animals get very drunk indeed. Many of the reviews of the movie I have read while pondering mine speak to the movie's documentary-like atmosphere. I find that odd-not because I don't believe that there are families out there in poverty scraping by with smuggling (hell, I can see that in the Cleveland suburbs), but because the entire film is overlaid with a sheen of absurdity it's well-nigh impossible not to notice. The Kiarostami influence is there, of course, and it manifests itself in that blend of realism and absurdism you find in movies like A Taste of Cherry or Shirin. I'm not talking about extended fantasy sequences or anything, just that sense you get that things are just a little off. Things get more off the drunker the pack mules get. This is not coincidental. And then you get to the climax, or what passes for a climax in a film with such flat affect (and that, in itself, is part of what feels so absurd about this movie; it could have gone any way from melodrama to screwball comedy, and instead Ghobadi seems like he's trying to recreate the cinematography of Taiga in a film five times shorter). If you find yourself sitting there saying "what just happened?" to yourself, you're not alone. Especially when the credits start rolling a couple of minutes later. A lot of people saw this as huge. I don't know why, but I ended up seeing a curiosity. An interesting one to be sure, but I was not as moved by it as most. ** 1/2
Robert Beveridge
The abuse of animals, and children in this film is just terrible. I'm not even sure what the heck I was supposed to understand by the ending.
Cynthia S.
Super Reviewer
The unrepentant child labor and flawless collective acting from the child participants make for a startling opening and attention getter. While viewing the children going through the harsh border crossing scenes, you begin to wonder what sort of psychological effects reenacting would be caused upon the children, if any, simply by participating in this production. Once the drama equilibrates, you realize there's no end to the poverty, and the problematic decisions that children are faced with. It's mainly young'uns versus a cold reality. Featuring oftentimes breathtaking scenery.
Richard Cranium
Zamani barayé masti asbha (A Time for Drunken Horses)(Intoxication for Horses) Quotes
| | |
| --- | --- |
| Amaneh: | Ayoub worked hard for two months, but he wasn't able to earn enough for Madi's operation. He had to spend everything on us. After the fight in which he broke his arm, our uncle offered Ayoub a mule, so that they could work together. |
| | |
| --- | --- |
| Amaneh: | There are no jobs here, even if you have a mule. |
| | |
| --- | --- |
| Amaneh: | Oh God. Help Madi! Oh God. Make him better! |
| | |
| --- | --- |
| Ayoub: | In the truck, they said that several smugglers had been blown up by mines. Our village is on the border. That's who many villagers had died. My dad's there at the moment. I'm worried about him. |