Time Indefinite
(1993)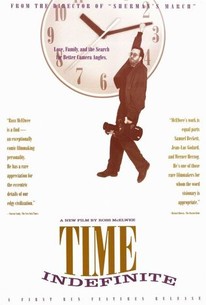 Movie Info
The saga of Ross McElwee, filmmaker, continues with this almost-sequel to Sherman's March. The expat Southerner has finally managed to find a kindred soul to marry (another filmmaker, Marilyn Levene) and things seem to be going swimmingly. Then the couple are hit with a rapid-fire series of family tragedies that send McElwee into deep contemplation. Time Indefinite is a bittersweet journey, however, full of the self-deprecating humor and observational skill that made Sherman's March such a treat. The title is a phrase from the Bible, read aloud as part of a diatribe by a Jehovah's Witness at the door, which strikes Ross as particularly lovely. The third film of this (so far) trilogy is Six O'Clock News.
Rating:
NR
Genre:
,
Directed By:
In Theaters:
On DVD:
Runtime:
Studio:
First Run Features
Critic Reviews for Time Indefinite
Audience Reviews for Time Indefinite
½
The more introspective, dark, version of Sherman's March, filled with philosophical pondering about the nature of life, death, and family. A moving work.
michael lyons
½
With one of my first columns I wrote about the most recent Ross McElwee film [url="http://hollywood-elsewhere.com/truth/archives/2005/08/when_i_started.php"][i][color=#800080]Bright Leaves[/color][/i][/url]. At that time only that and his first feature film [i]Sherman's March[/i] were available on DVD. Since then, a collection of his entire filmography has been released, but I've been waiting to tackle them. His follow up to [i]Sherman's March[/i], [i]Time Indefinite[/i] sounded, at least story wise, the closest film to my own. I wanted to be finished with mine before I watched it; I didn't want to be influenced. But finding myself at a sort of editorial-road-block, I thought I might find something to spark some new ideas. (Which didn't happen.) I then realized that it was silly to think that his film would influence me. While we both take the idea of filming our own lives to make documentaries, his style is so far from my own, that I would never "steal" anything from him anyway. [img]http://hollywood-elsewhere.com/truth/images/mcelwee.jpg[/img] Ross McElwee filming [i]Bright Leaves[/i]. Another reason I waited a few months to watch McElwee's other films was because they are not the easiest movies to slip into. You have to be in the right frame of mind. If the average person was to come across [i]Time Indefinite[/i] while flipping through the channels, they'd skip right on by. There's nothing in his films that grab you, they're a very slow burn; a slice of life moving along without any panache, narrated in a reverential, almost whispered tone. It's a style that he copyrighted in [i]Sherman's March[/i] and has been using ever since. While [i]Sherman's March[/i] was supposed to be about something; McElwee following the Civil War General's path through the south, a historical documentary. It organically turned into a film about his inability to stick with any one woman, taking a journey of self-discovery. [i]Time Indefinite[/i] doesn't bother with any such structure, it is plain and simply a film about his life. It picks up a few years after [i]Sherman's March[/i], when McElwee has finally found the right woman; Marilyn Levine a fellow filmmaker, who co-directed his Berlin Wall documentary [i]Something to Do with the Wall[/i]. She puts up with and even understands his constant filming of their life; it may even be the main reason Ross stuck with her. The film starts at a McElwee family reunion, where Ross announces that they're getting married. His family is ecstatic; he's long been the eccentric uncle, the one with no wife or kids. His dad and step-mom are amazed that he's settling down. As the couple prepares for their wedding, in a seemingly minor scene of them getting their blood drawn for their wedding license, his narration hits upon a possible explaination for his obsession with filming everything. The only way he can watch himself get stuck with a needle is through the camera; that it acts as a life filter, making everything that happens to him less real, more like a movie. (I know exactly the sensation that he speaks of.) After the wedding, in an uncomfortable scene, Marilyn visits her gynecologist. The doctor announces, through spread legs, "that her uterus is ready for Baby City". Ross isn't sure if he's ready for kids; he's not willing to visit Baby City yet. But their life and the film move on, and Ross is soon announcing their pregnancy to his last living Grandmother. A few weeks later she has passed away; and in quick succession two more tragedies visit his life. First Marilyn has a miscarriage and then Ross' father dies. While the miscarriage is a disappointment for the couple; it is the death of Ross' father that really devastates him. With his mother long buried, Dad was the rock in this nomadic filmmaker's life, in him he always had a place to call home. It hits Ross so hard, that all he can bring himself to film for the next few months is the snow falling outside his window. For a guy whose camera is almost always running, that's saying something. After his grief has subsided a bit, he travels back to his childhood home to reflect on what has happened. Obsessed with mortality he films a suffocating fish on a fishing pier and muses over how fragile life is. Up till now the film has been moving slowly ahead with some sort of purpose; but it suddenly goes off the deep end with the every day stuff. Ross is so sick of thinking about death, that he includes a somewhat long and boring scene of the family's longtime housekeeper, Lucille Stafford's 50th wedding anniversary celebration. It really doesn't have much of anything to do with the rest of the film, it's something that Lucille asked him to do for her as a friend. If it weren't for Ross' narration we could be watching footage of any anonymous couple's anniversary. It's a completely unnecessary subplot. [img]http://hollywood-elsewhere.com/truth/images/time.jpg[/img] Too much information. The planet continues to spin, the seasons change, and Ross' camera is rolling through it all, that is, up until the moment his son is born. It is jarring to watch a black screen, with an audio recording, as Ross' offspring is born. You would think a guy so zealous about filming everything would want his camera rolling as one of life's most important moments passes him by. And it gets even weirder as we see his son, a few weeks old, lying on their bed. He tells us that this is the only footage he shot of his newborn son Adrian. I was flabbergasted by this development in the film, these were the scenes I was waiting to see how he handled, and they weren't even shot. We watch as obscure relations to him celebrate their anniversary, but this life-altering event doesn't make the cut? My only guess as to why he didn't film this stuff; was that he didn't want the filter of the camera to ruin this new life, that he wanted to experience this amazing experience raw. But I know the filmmaker in him is reeling; that he now wishes he had it all on celluloid, to lock-in the twinkle of these fleeting moments forever. The film ends soon after this, and we've taken this meandering ride through a few years in Ross' life. Without much of a structure [i]Time Indefinite[/i] is about as close to real life as you can get on screen. It is not a film for documentary lightweights. You have to have a strong constitution to get through it, but in the end you may find yourself enlightened in someway.
Ross Williams