Time Limit
(1957)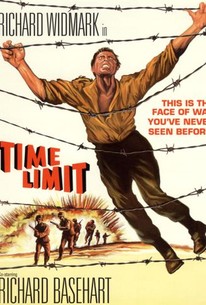 AUDIENCE SCORE
Critic Consensus: No consensus yet.
Movie Info
A to-the-point adaptation of an overly cerebral stage play by Ralph Berkey, Time Limit was the only film directed by character actor Karl Malden. The story involves a US army major (Richard Basehart), on trial for collaborating with the enemy during his imprisonment in North Korea. The case seems open and shut; not only are 14 former POWS willing to testify for the prosecution, but the major himself admits his guilt. Army investigator attorney Richard Widmark suspects there's more to the story than anyone is letting on. Conducting a private probe, Widmark discovers that Basehart had agreed to cooperate with the enemy to keep his men from being executed--but only after another American soldier, whose name Basehart wishes to protect, had revealed the POW's escape plans while under torture.
Rating:
NR
Genre:
, ,
Directed By:
Written By:
In Theaters:
On DVD:
Runtime:
Studio:
MGM
Critic Reviews for Time Limit
All Critics (1) | Fresh (1) | Rotten (0)
The taut direction, finely tuned philosophical screenplay and crisp performances, make this superior courtroom military film a suspenseful and cerebral one."

Ozus' World Movie Reviews
Audience Reviews for Time Limit
Time Limit is a 1957 legal drama film directed by Karl Malden, his only directing credit. In his autobiography, Malden stated that he "preferred being a good actor to being a fairly good director." Richard Widmark co-produced the film and stars as well. SEE the entire film in installments starting here: www.youtube.com/watch?v=b5IjVwG4qZ4 [img]https://www.movieposter.com/posters/archive/main/49/MPW-24641[/img] "Army Colonel William Edwards (Richard Widmark) is investigating the case of Major Harry Cargill (Richard Basehart), accused of collaborating with the enemy while he and his unit were held captive in a North Korean prisoner of war camp. Cargill willingly admits his guilt and brings forth evidence that proves that he signed a germ-warfare confession and broadcast anti-American speeches over the radio, seemingly an act of treason."--- wikipedia REVIEWS by those like us: 70% Too many times, I have been somewhat disappointed by a so-called old school classic movie that I finally get around to watching. Then there are those like this one... NOTES: 1 It was the first picture for Widmark's independent production company, Heath Productions, Inc. 2 In a 1988 interview about the film, Malden said, "Widmark thought I'd be good directing it, and I said 'Sure, I'd take a crack at it.' I liked what it had to say." Critics gave Malden good reviews for his first (and only) directorial effort. [img]https://www.movieposter.com/posters/archive/main/53/MPW-26768[/img] Cast Richard Widmark as Colonel William Edwards Richard Basehart as Major Harry Cargill Dolores Michaels as Corporal Jean Evans June Lockhart as Mrs. Cargill Carl Benton Reid as General Connors Martin Balsam as Sergeant First Class Baker Rip Torn as Lieutenant George Miller Khigh Dhiegh as Colonel Kim (as Kaie Deei) Yale Wexler as Captain Joe Connors Alan Dexter as Mike Manning Ross as Lieutenant Harvey Joe Di Reda as Gus (as Joe Di Rida) James Douglas as Steve Kenneth Alton as Boxer Jack Webster as Lieutenant Harper Directed by Karl Malden Produced by Richard Widmark William H. Reynolds Written by Henry Denker Music by Fred Steiner Cinematography Sam Leavitt Editing by Aaron Stell Distributed by United Artists Release dates October 23, 1957 (U.S. release) Running time 96 minutes [img]http://upload.wikimedia.org/wikipedia/en/thumb/9/9f/Timelimitpost.jpg/220px-Timelimitpost.jpg[/img]
monsieur rick
½
Too many times, I have been somewhat disappointed by a so-called old school classic movie that I finally get around to watching. Then there are those rare moments where I stumble across a film I've never heard of, and I come away pleasantly surprised. Time Limit, directed by Karl Malden and starring Richard Widmark, Rip Torn, and Richard Basehart, falls into the latter group. While a little heavy on the dialog, it's a fine film that deserves more notoriety. Widmark stars as a Colonel Edwards, who must decide whether Major Cargill, played by Basehart, should be court marshaled for treason for his unpatriotic deeds while in a Korean War POW camp. Other significant players are Rip Torn as one of his accusers, Carl Benton Reid as Edwards' superior, and Dolores Michaels as the stunning Corporal Evans. June Lockhart has a single scene as Cargill's troubled wife. Martin Balsam gets plenty of face time as the needling Sergeant Baker. No need to give away the particulars of the case and partially ruin the movie, but it will be suffice to say that there are a couple of twists and turns that you half expect are coming, but they should provide plenty of surprise nonetheless. This film compares favorably to the similar but more highly regarded Stalag 17. I only wish we had more insight into the events inside the camp. Most of the film, in fact, takes place inside Colonel Edwards' office. What we do see of the POW camp is certainly more realistic and gritty then what we got in the Stalag film. Time Limit is a little heavy on the melodramatic dialog, but it is compelling, thought provoking material. The dialog, however, might have carried more weight if we had a little less of it, and more substantial scenes from inside that camp.
Mark Burns
½
Good if unexceptional war crimes drama. Solid performances from the always fine Richard Widmark as well as Richard Basehart, Martin Balsam and an impossibly young Rip Torn.
Time Limit Quotes
There are no approved quotes yet for this movie.
Discussion Forum
Discuss Time Limit on our Movie forum!