Time of Favor
(2000)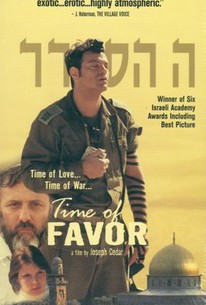 Movie Info
Issues of love, loyalty, and faith are set on a collision course in this award-winning drama. Rabbi Meltzer (Asi Dayan) is a respected Orthodox rabbi and leader of a yeshiva school in a remote section of the Judean hills. One of the Rabbi's favorite causes is returning Jerusalem's Dome of the Rock to the control of Israel -- a holy shrine in the ancient city that Moslems use as a mosque and Jews call Temple Mount. With this goal in mind, the Rabbi organizes a military unit comprised of his students, with military officer Menachem (Aki Avni) serving as an advisor. While Menachem agrees with Rabbi Meltzer in principle, especially since the Rabbi regards the group's activities as more symbolic than anything else, he and other military authorities are wary of his plan, believing the Rabbi's soldiers could easily turn into a fanatical terrorist group with the wrong twist of the political winds. One of the Rabbi's prize students is a frail young man named Pini (Edan Alterman), and Meltzer is fond enough of the lad that he's decided Pini should wed his daughter Michal (Tinkerbell). But while Michal respects her father, she has a mind of her own and no interest in marrying Pini. Instead, Michal has become infatuated with Menachem, but the officer refuses to go against the Rabbi's wishes; determined to follow her heart, Michal leaves home to strike out on her own. Pini is devastated by Michal's departure, and he becomes newly determined to make good within Rabbi Meltzer's military unit, while mapping out a secret plan with fellow student Itamar (Micha Selektar) in which they'll finally destroy the Dome of the Rock. Time of Favor won wide acclaim in Israel, earning six Israeli Academy awards, including Best Picture, and it was the nation's official entry for the 2000 American Academy Awards competition (though it failed to make it into the final field of nominees).
Critic Reviews for Time of Favor
Audience Reviews
There are no featured reviews for Time of Favor at this time.
Time of Favor Quotes
There are no approved quotes yet for this movie.