Time of the Gypsies
(1990)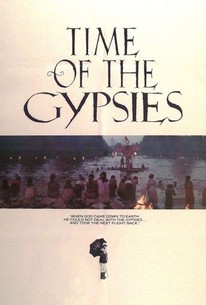 Time of the Gypsies Videos
Time of the Gypsies Photos
Movie Info
Perhan (Davor Dujmovic) is a Gypsy teenager with the ability to move objects with his mind. A criminal named Ahmed convinces him to leave his devoted grandmother (Ljubica Adzovic) and loving girlfriend, and to use his powers to make some money illegally. While becoming a man and learning the trade of crime, the boy searches for his sister (who was supposed to have a leg operation) and tries to save money to realize his fantasy of returning home to marry the woman of his dreams. This film won Emir Kusturica an award at the 1989 Cannes Film Festival for his direction and was the first feature to be filmed with its entire dialogue in the Gypsy language, Romany. ~ Perry Seibert, Rovi
Audience Reviews for Time of the Gypsies
Like every film by Kusturica I've seen, Time of the Gypsies gives me a warm feeling I can't explain. Of course, the music of Goran Bregovic is also responsible for that. The plot may not be innovative but it still is a beautiful story with vivid characters.
Sotiris Kaponis
Time of the Gypsies does have a lack of focus and is undone by its epic scope with some of the subplots and themes being rushed, but it is still such an immensely unique and interesting experience not only in its characters and story, but also in its mix of genres and amazing visuals. It is uneven, but nonetheless pretty good and containing many powerful scenes.
David Lazovic
½
Kusturica is one of the great but overlooked filmmakers of recent times, and this is one of his best works. The story might be the usual rags-to-rich-gangster arc but what made this movie was the sheer inventiveness of the filmmaking. The photography was out-of-this-world brilliant, where I could've just stared at every frame. The characters all had their little (or not so little) bizarre tics to them, and Kusturica gave the entire film an aura of surrealism that made the experience unique. It was really the strangeness of the movie that made the most impact on me and elevated the drama. It also made for a lot of humor. As pure (intentional) comedy, it was as funny as anything out there, but the moments of sadness also rang true. The cast was uniformly excellent, even the main character's naive love interest, who is certainly not the most accomplished thespian but actually used that to her advantage to communicate innocence. Others have called it overly challenging and dramatic, but I think it was very fun to watch as pure entertainment as well, with the same sort of quick pace as, say, late period Scorsese.
Sean Pak
Time of the Gypsies Quotes
There are no approved quotes yet for this movie.
Discussion Forum
Discuss Time of the Gypsies on our Movie forum!