The Time of Their Lives (The Ghost Steps Out)
(1946)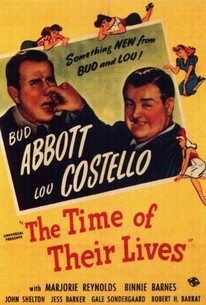 AUDIENCE SCORE
Critic Consensus: No consensus yet.
The Time of Their Lives (The Ghost Steps Out) Photos
Movie Info
While perhaps not Abbott & Costello's best film, The Time of Their Lives is certainly their most unusual. Lou Costello plays a Revolutionary War-era tinker, whose prized possession is a letter from George Washington, commending Costello as a loyal patriot. Costello's lady love is Anne Gillis, maidservant to aristocratic Jess Barker. Costello's rival in romance is Barker's butler Bud Abbott, who locks the tubby tinker in a trunk to keep him away from Gillis. Meanwhile, Gillis stumbles onto a plot to betray the Colonial Armies, masterminded by Barker. The girl is kidnaped and spirited away, but not before Barker has appropriated Costello's letter from Washington and hidden it in a mantelpiece clock. All this is witnessed by Barker's fiancee Marjorie Reynolds, who disguises herself as a man, the better to make her way through the lines to warn the Colonial troops of Barker's plot. She frees Costello from his trunk and enlists his aid in locating Washington. Mistaken for traitors, Costello and Reynolds are shot dead. Their bodies are thrown in a well as a colonial officer curses their souls to remain on the grounds of Barker's estate "until the crack of doom," unless some evidence should prove them innocent of treason. A few moments later, Costello and Reynolds materialize as ghosts. They try to escape the grounds, but a supernatural force holds them back. Flash-forward nearly two centuries to 1946: Costello and Reynolds, still confined to the estate, resent the intrusion by Barker's descendants, who plan to renovate the mansion and open it to tourists. The two ghosts decide to haunt the estate, resulting in a series of amusing and well-conceived invisibility gags. Much to their surprise, Costello and Reynolds find none other than Costello's old nemesis Bud Abbott as one of the house guests. No, Abbott isn't a ghost: he's a famed psychiatrist, a descendant of the butler who double-crossed Costello back in 1780. Costello has a high old time playing tricks on the nervous Abbott (a fascinating reversal of the usual Abbott-Costello relationship) before the rest of the house's occupants decide to hold a seance to find out what's annoying the two ghosts. In a genuinely spooky sequence, sinister house servant Gale Sondergaard, possessed by the spirit of Jess Barker, reveals that the ghosts have been falsely accused of treason, and that their salvation lies in locating that letter from Washington. Driven by a feeling of remorse over the sins of his ancestor, Abbott does his best to help the ghosts. Before the plot is resolved, there is time for a standard Abbott-and-Costello chase scene, with the invisible Costello driving a car wildly around the estate, with a terrified Abbott cringing in the back seat. More than a little inspired by The Canterville Ghost, The Time of Their Lives was the second of two Universal films that attempted to recast Abbott and Costello as individual characters rather than smart guy-dumb guy team members. While the film is an unmitigated delight when seen today, it failed at the box office in 1946, compelling Bud and Lou to return to their standard formula in their next film, Buck Privates Come Home.
Rating:
NR
Genre:
, , ,
Directed By:
Written By:
In Theaters:
Runtime:
Studio:
Universal
Critic Reviews for The Time of Their Lives (The Ghost Steps Out)
All Critics (2) | Fresh (1) | Rotten (1)
A bold Abbott & Costello venture, featuring the team in separate roles entirely, which was very inventive for its time.

Dispatch-Tribune Newspapers
Audience Reviews for The Time of Their Lives (The Ghost Steps Out)
Abbott and Costello flick which starts in 1780 during the Revolution. Lou plays a character who is mistaken for a traitor along with a lady-friend and are killed and dumped in a well, cursed to haunt the manor for all time. The mansion is destroyed and not until the 1940s is it rebuilt. Being bored for so long, they decide to haunt the new inhabitants. They learn why the were killed and with the help of the live humans try to find evidence to exonerate them. Lots of funny moments, the obvious jokes were not over-used and it never gets stale.
D M
Classic Abbot & Costello. I highly recommend it to those who want to check out a couple of their films.
Jordan Towles
This is my favorite Abbot & Costello movie, and oddly enough, they're not together in the movie all that much.
Ruth L
The Time of Their Lives (The Ghost Steps Out) Quotes
There are no approved quotes yet for this movie.
Discussion Forum
Discuss The Time of Their Lives (The Ghost Steps Out) on our Movie forum!