Timecop 2
(2003)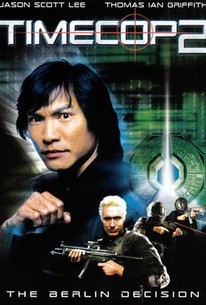 AUDIENCE SCORE
Critic Consensus: No consensus yet.
Movie Info
Jason Scott Lee portrays the title character in Stephen Boyum's time-traveling action film Timecop 2: The Berlin Decision. The film follows the timecop as he jumps from various eras in history in an attempt to stop criminal Branson Miller (Thomas Ian Griffith) who has been manipulating history for his own personal gain.
Rating:
R (violence)
Genre:
,
Directed By:
Written By:
On DVD:
Runtime:
Studio:
Universal Studios Home Video
Critic Reviews for Timecop 2
All Critics (2) | Fresh (0) | Rotten (2)

Bad Movie fans who chuckled at the original Timecop will chuckle here as well, but those looking for quality sci-fi or workable action should look elsewhere.

Audience Reviews for Timecop 2
½
A surprisingly fun time, while at the same time expanding upon, and keeping continuity with the first one. Jason Scott Lee stars as Ryan Chan, Timecop golden boy, in WWII Germany, to stop a madman that just jumped there. Unfortunately his partner decides to kill Hitler, and becomes a fugitive, wherein the partner, Brandon Miller (Thomas Ian Griffith), goes to various times to kill off TCF early family members, to prevent their birth. While it does look a bit on the cheap side, the special effects work well, and it's very colorful. Steve Boyum does a solid job directing, keeping the pace up, and make the action exciting, especially in the old west timeline. Lee makes for a good leading man, and handles the action damn well. The multiple timelines could have gone awry or gotten too much, but things are handled properly and it never gets too daunting or such. Some of the dialogue is too cheesy at times, and it does succumb to some trapping of simply being made on the cheap, but over all, it's quite good and enjoyable.
Bobby LePire
Saw it on Mark's entry a while back, so I added it to my Netflix queue. I'm sort of a fan of Jason Scott Lee since Dragon: The Bruce Lee story. So it's good to see him in another movie since ... oh ... the live action version of Jungle Book? Anyway, the fight scenes in the film weren't half bad, and there were enough of them to keep me entertained. Jason Scott Lee is a charismatic actor. He's in great physical condition and can do action scenes convincingly. I thought he would have a better career than being a straight-to-video action star. Oh well, maybe he should go to Hong Kong and work with some of the better Hong Kong directors. He's way more charismatic than most of those pop idols in Hong Kong.
Senh Duong
Last night was fun. After the devotional (for which I was late) I zoomed over to Jamie's and we watched [i]Friends[/i]. (Poor Phoebe.) Then we went to a nice sushi place in Arcadia and ate way too much good food. But since it was well-made Japanese food, I wasn't all bloated afterwards. Just full. We shared a sashimi platter while I ate the yakitori plate. It was really good. Too bad we can't include restaurants in our ratings. After that we went to this Chinese desert place next to Din Tai Fung called Phoenix. It wasn't bad. I had some dish of mixed custards. It was edible, but nothing to write home about. The mango one was the worst of the 4, but the others weren't too bad. Then back to Jamie's to watch [i]Ferris Bueller's Day Off[/i]. One of my favorite movies of all time, but since she grew up in Singapore, she had never seen it. Same with Ely and Susan. Of course, Jamie H. grew up here so I don't know what the heck her excuse is. :p The movie was a present from Peter for Jamie's birthday. I was going to get her a movie too, but I couldn't decide on one so I ended up getting her a gift certificate to the video store and letting her make the tough choices. After the movie I came home and watched this other movie I rented. It was late, but I'm stubborn. It's called [i]Timecop 2: The Berlin Factor[/i] and the writing was horrendous. But the fight sequences weren't too terrible and I like Jason Scott Lee so I stuck it out. Talk about your plot holes big enough to drive a truck through. But hey ... I'm a sucker for time-travel flicks. Even if they suck I love them. Now I'm up and it's time to get ready. It's nice to see that some of the jetli.com folks have joined up on The Vine. Hopefully when I'm able to add people to the jetli.com blog ring I will be able to put them in there too. Until then, hold tight and don't let the bed bugs bite. I'm off to P.T.! TTFN
Mark Moran
Timecop 2 Quotes
There are no approved quotes yet for this movie.