TiMER
(2010)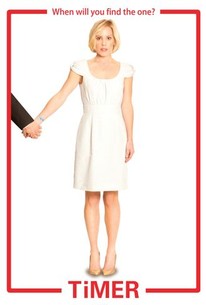 Movie Info
Life doesn't offer many guarantees, but in the alternate universe of writer-director Jac Schaeffer's feature debut, the romantic comedy TiMER, people can get a digital clock implanted on their wrist that counts down to the second they meet "the one." It even sounds a little alarm the first time two soul mates look into each other's eyes. The device is not working too well for Oona (Emma Caulfield, who played Anya on Buffy the Vampire Slayer), because her TiMER is blank. That means her soul mate, whoever he is, hasn't yet signed up for the service. So Oona dates guys without TiMERs, and forces them to get the implant if the relationship looks promising. But so far, no dice. Oona's twentysomething half sister, Steph (Michelle Borth), is also unlucky. Her TiMER tells her she won't meet Mr. Right for about 20 more years. While Steph sows her wild oats, resigned not to commit to a relationship, Oona, approaching 30, obsesses over her TiMER. Oona meets a cute younger guy working at the local supermarket, but Mikey (John Patrick Amedori of Gossip Girl) already has a TiMER, and it's set to go off in a few months. "Life is about detours," he tells her, but Oona's not convinced. Meanwhile, Steph meets dashing and TiMER-less Dan (Desmond Harrington, also of Gossip Girl). Dan is interested in Steph, but she knows he's not "the one" for her, so she tries to set him up with Oona. Timer also features JoBeth Williams as Oona's mom. The film had its world premiere at the 2009 Tribeca Film Festival, and was shown on demand in conjunction with the 2010 festival at the time of its theatrical release. ~ Josh Ralske, Rovi
Audience Reviews for TiMER
"What's the point in continuing without a guarantee?" A device that tells you the exact amount of time it will be until you meet your soulmate seems to be the perfect answer for heartbreak and uncertainty, but it only causes problems for Oona, who has yet to have her timer begin to count down (because the person she is meant to be with, whoever they may be, has yet to get one). This frustration and loneliness leads her to begin a casual relationship with a young man whose timer countdown is set to end in just a few months. A fairly interesting tale unravels from this setup, that brings up questions of destiny and what's better, the person who is right for us or the person we choose. A novel premise and thoughtful script from a modern romantic drama? AND a likable protagonist that's not the same caricature we've seen a thousand times (Emma Caulfield gets total credit for pulling that off)? I genuinely liked TiMER, for those reasons and others. This isn't my usual kind of movie, but it's so well made that I enjoyed it. Genre fans will like it even more.
Charming. Cute. Enjoyable.
Cynthia S.
Super Reviewer
½
Genuinely sweet and irrevocably well plotted, Timer is one of those indie comedies that get you unlike its big budgeted star studded counterparts. The impressive Emma Caulfield (Buffy) takes the lead in a future where timers tell you when you will meet your soul mate. The film is made up of well placed humor, superb performances, even of the supporting actors, and a premise that not only has promise but holds water throughout. There are many twists and turns, completely unforeseeable from the trailer and descriptions of the film. It's not a sci-fi film by any means, substituting any futuristic inquiries for more of a parallel universe or fantasy world, completely believable if you have willing suspense of disbelief. There were laugh out loud moments and heartbreaking ones, technology's stance overwhelming the main character, which is relatable as a thirty-something whose biological clock ticks in synchronicity with the timer on her wrist. With an intriguing subplot and room for our own interpretation of the ending, TiMER only disappoints the crowd with their own conceptions of how this film should end. Many people wanted romantic fluff, but TiMER is beyond its parameters of what a usual indie comedy allows, and therefore is not for the feeble of heart.
Spencer S.
Super Reviewer
TiMER Quotes
| | |
| --- | --- |
| Mikey: | See, that's what's stupid about the timer. It's that you have one path and you can't take detours. I mean, life is about detours. |