Timo Rose's Beast
(2009)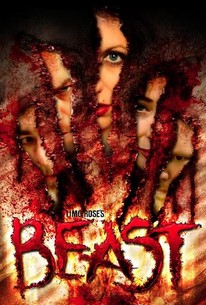 AUDIENCE SCORE
Critic Consensus: No consensus yet.
Movie Info
Alex (Joe Zaso), who has been estranged from his family (Raine Brown and Eileen Daly), returns to confront certain "issues." Aside from his day-to-day woes, his biggest trouble is that he transforms into a violent, feral beast - and he's been given this curse by someone in his family. Meanwhile, another "beast" named Tim (Andreas Pape) is being pursued across the German countryside. These similar people with different stories intertwine, the body count mounts, and a shocking truth is revealed in their wild, blood-soaked showdown.
Critic Reviews for Timo Rose's Beast
There are no critic reviews yet for Timo Rose's Beast. Keep checking Rotten Tomatoes for updates!
Audience Reviews for Timo Rose's Beast
½
If ever there was a movie where I tried so hard to love, but wound up disliking, it was Beast. Brought to us by well-rounded German goremeister Timo Rose (wrote, directed, edited, starred, etc), Beast is about an estranged brother (Joe Zaso, who is the nicest guy ever) returning home to sister (Raine Brown, another very nice person) and mother. Joe's got a secret though, he's a werewolf...apparently. That's right people, this is supposed to be a werewolf film, but unfortunately, werewolves show up a whopping 1 minute's worth of screentime throughout this 95 minute film. Aside from Zaso and Brown, Timo Rose, himself, and Rose film regular Joe Davison (Fearmakers, 100 Tears) show up as werewolf hunters to add some spice to the film. There characters were somewhat enjoyable, though I liked them better in Fearmakers, where they played virtually the same characters, only funnier. To top things off, we have guest appearances by Judith O'Dea (Night of the Living Dead), Monique Dupree, and director Mike Mendez (Gravedancers). Like, I said, I REALLY wanted to like this movie, but with very little werewolf action and some of THE worst dialog ever, it was very hard. I gotta give the cast and crew credit for doing what they love. These are hardworking people who strive to do unique films, and this film was unique, but not enough to be good. Rose and company can do much better.
Jason Duron
Timo Rose's Beast Quotes
There are no approved quotes yet for this movie.
Discussion Forum
Discuss Timo Rose's Beast on our Movie forum!