Tin Men
(1987)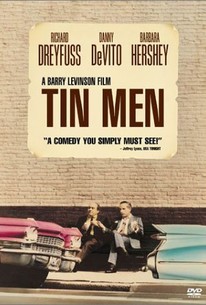 Movie Info
A nostalgic evocation of a simpler era, and perhaps the best of director Barry Levinson's quartet of Baltimore-based film reminiscences, Tin Men immortalizes a fast-talking, early-1960s breed of salesman who pushed aluminum siding. Danny DeVito and Richard Dreyfuss are two of the titular characters who, after a minor fender-bender, become mortal enemies -- and competitors. Dreyfuss even goes so far as to cuckold DeVito's wife (Barbara Hershey).
Rating:
R
Genre:
Directed By:
In Theaters:
On DVD:
Runtime:
News & Interviews for Tin Men
Critic Reviews for Tin Men
Audience Reviews for Tin Men
The best of Barry Levinson's films evoke a great sense of time and place, and "Tin Men" is a beautiful example of that, something that it accomplishes through the use of music and a terrific production designer. This is the second of what's become known as the director's "Baltimore films," and it's a comedy with a lot of dark undertones bubbling just under the surface, another thing it shares with some of Levinson's best. This is a very satisfying film, filled with rich characters are situations both comedic and dramatic that hits close to home. Sometimes they hit a little too close to home, but the performances by both Danny DeVito and Richard Dreyfuss always find just the right tone to keep the film from getting ugly. Dreyfuss stealing DeVito's wife all because of a traffic accident could have turned things sour, but the actors and Levinson's screenplay never allow that to happen. There are a lot of laughs along the way, although it is true that just as many of the laughs come from the supporting performers as they do from the leads. Jackie Gayle is a riot as DeVito's partner and gets a lot of laughs whether he is musing about the logistics of "Bonanza" or mindlessly raving about Dreyfuss' dancing skills. The music puts just the right finishing touch on the picture, and not just the usual and expected hits of the '60's. There's also a lot of great music from up-and-coming band Fine Young Cannibals, who had yet to break out in America. "Tin Men" is a comedy with some serious underlying themes than enhance the picture rather than spoil the mood. It's yet another winner from a major talent.
Timothy Sanders
½
Not even two great actors can save this mess from being one of the most boring films of all times. It's not funny, amusing or interesting. Only thing that kind of makes worth while are the two masterful performances from Richard Dreyfuss and Danny De Vito and the historical background. The rest is bad.
Matthew James
love this film, devito, and a host of great actos in this film, so many to mention, and of course my fave richard, i wish there were more movies like this.
mike hawke
Tin Men Quotes
There are no approved quotes yet for this movie.