Tina Turner - Live in Amsterdam
(1996)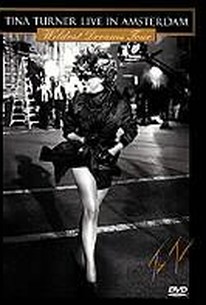 AUDIENCE SCORE
Critic Consensus: No consensus yet.
Tina Turner - Live in Amsterdam Photos
Movie Info
Pop/R&B superstar Tina Turner delivers a typically explosive performance in this live video shot in 1996 at the New Amsterdam Arena. Her set includes such hits as What's Love Got To Do With It and Better Be Good To Me. ~ Mark Deming, Rovi
Rating:
NR
Genre:
Directed By:
Runtime:
Cast
Critic Reviews for Tina Turner - Live in Amsterdam
There are no critic reviews yet for Tina Turner - Live in Amsterdam. Keep checking Rotten Tomatoes for updates!
Audience Reviews for Tina Turner - Live in Amsterdam
Full Tina Turner unleashed! High Energy! [This is the 1999 concert video, not the RT 1996]. A fantastic stage performance amongst thousands of fans in Amsterdam. The audio is terrific. (You will notice that all her dancers are females and the words not synchronized with the video, but good enough). [img]http://img547.imageshack.us/img547/1289/tt60.jpg[/img] SEE this awesome beginning, Tina singing her Bond Golden Eye song: [img]http://www.youtube.com/watch?v=3n_0qBUWSEA&list=PL753D65A20EACBE4F[/img] SEE the entire concert footage here: http://www.youtube.com/watch?v=g2-YnN6-q2s [img]http://upload.wikimedia.org/wikipedia/en/7/7e/Tt_wdt96.jpg[/img] Opening acts for the tour: The Accelerators(Paris, May 1996) This is Bruce Willis' band Jimmy Barnes (Australasia) Tony Joe White (New Zealand) Cyndi Lauper (North America) Chris Isaak (Wantagh) Tina Turner as a celebrity never had anything handed to her in her life. She hooked up with Ike Turner in East St. Louis early in Tina's career. But Ike eventually got abusive with her and went to jail much later after splitting with Tina. So when you watch this, don't think she is some rich gal gone famous with lots of help. She actually was born on a poor plantation farm. Which makes this concert SO fun to watch that she got world recognition after years of struggle. [img]http://i1.ytimg.com/vi/PPuMvDMGiKY/hqdefault.jpg?feature=og[/img] NOTES for the note nuts: 1 The Wildest Dreams Tour is the seventh concert tour by American singer Tina Turner. The tour supported her eighth studio album, Wildest Dreams. The tour is Turner's biggest outing to date, performing over 250 dates in Europe, North America and Australasia-surpassing her Break Every Rule Tour in 1987. Lasting nearly 16 months, the tour is estimated to have grossed over $100 million. 2 While promoting the North American leg of the tour, it was announced talk show personality Oprah Winfrey would follow the tour with her syndicated talk show from Houston to New York City. Winfrey described the event as her dream stating, "She is our goddess of rock 'n' roll. We are going to be right there with Miss Tina. We're going on tour with Tina. 'The Oprah Show' is actually going on the road with Tina. I am the biggest Tina Turner fan there is. It is my wildest dream."-- Oprah Winfrey [img]http://img228.imageshack.us/img228/7109/d965181c26946c96b3d51cc.jpg[/img] 3 In her own words, Turner believed this could be her best tour in North America. She further commented,: "It could be my best tour ever in America. When I walk on stage, there's such a feeling of faces looking back at me with love and admiration. [And] it turns into a togetherness. It really is about a desire from the people. The last tour I actually announced to my audience that I would be back. It was only because of that feeling, because that's the kind of audience I have." 4 During the tour, pianist Kenny Moore suffered health problems. In Sydney, New South Wales, he was admitted to the hospital and later pronounced deceased due to apoplexy. Moore has worked with Turner since 1977. Chuck Booker replaced Moore for the remaining dates of the tour. Turner dedicated every performance thereafter to Moore. [img]http://images.tvrage.com/shows/37/36401.jpg[/img] REVIEWS by the unpaid critics: 1 Not young, not a typical beauty, had no scandals, don't eat drugs, has no drunken or naked photos, but she is still the best. How? 2 This Lady can eat 10 lady Gaga, 20 Miley Cyrus and 40 Selena Gomez, and she still hunger in the end. For the love of God, learn how to make real music, and you might be on her shoes in 40 years. Straight Down the PLASTIC music.... Long live the one and only QUEEN OF ROCK & ROLL ------- Tina Turner ------- 3 Saw her way back in the 70's and she is just as brilliant now if not better. fantastic.. Band Drums: Jack Bruno Guitar: James Ralston and John Miles Bass guitar: Bob Feit and Warren McRae1 Keyboards: Ollie Marland and Timmy Capello Saxophone: Timmy Cappello Percussion: Timmy Cappello Piano: Kenny Moore and Chuckii Booker2 Supporting vocals: Chuckii Booker, James Ralston, John Miles, Kenny Moore, Timmy Cappello Ollie Marland, Karen Owens, Sharon Owens and Cynthia Davila Dancers: Karen Owens, Sharon Owens and Cynthia Davila 1March-August 1997 2Replaced Moore after his death in March 1997. [img]http://polnovsego.com/uploads/posts/2013-05/1369393363_poster_282604.png[/img] Associated album Wildest Dreams Start date April 13, 1996 End date August 10, 1997 Shows 1 in Asia 4 in Africa 146 in Europe 26 in Australasia 78 in North America 255 Total [img]http://i.ytimg.com/vi/4DhJajQC1e8/0.jpg[/img]
monsieur rick
Discussion Forum
Discuss Tina Turner - Live in Amsterdam on our Movie forum!
News & Features