Tintorera - Tiger Shark
(1978)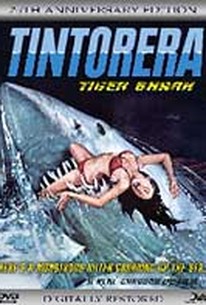 AUDIENCE SCORE
Critic Consensus: No consensus yet.
Movie Info
Rating:
R
Genre:
, ,
Directed By:
Runtime:
Critic Reviews for Tintorera - Tiger Shark
All Critics (1) | Fresh (0) | Rotten (1)
Really strange Mexican exploitation about a love triangle ended by a tiger shark. Very, very weird stuff.
Audience Reviews for Tintorera - Tiger Shark
OMG! This was terrible. I have seen the Jaws film series and countless ripoffs after that film's success but this is absolutely awful. Director Rene Cardona Jr. who did the exploitation trash Guyana! Cult of the Damned is responsible for this dull ripoff.Tintorera is a movie that moves at a very slow pace and it's under 90 minutes! No real shark action starts after the 20 minute mark where it totally ripsoff the opening sequence of Jaws of the woman swimming naked and being attacked by the shark and her lover is passed out(how original.).The plot, well think of the movie Summer Lovers-sans the shark, mind you. Exotic locale, and switch it from 2 girls and a guy to 1 girl and two guys. The movie spends most of its running time on this menage a trois instead of the shark and a terrible anti-climax. Susan George, a talented actress is here on a paid vacation cause no acting is required(she got a good tan out of this film.)Plenty of T&A to keep the audience awake and for those born in the 80's and 90's here's your chance to see the swinging 70's on film.
Orlando Diaz
Absoultely TERRIBLE . . . its like it isn't even a coherent movie. Well, its coherent but its like scenes are put together disjointedly to make a film that's lacking any energy. I remember thinking this wasn't a real movie even though it is a real movie.
Gordon Terry
I expected a Jaws clone and got a movie about threesomes. After I got over the initial shock I actually found Tintorera to be a sweet, almost classy, little male fantasy. Tintorera is actually a sex/beach-flick, and thus perfectly captures the feel of the seventies take on sexual revolution; an era of hedonistic disco parties, sexual experimentation and short, loveless sexual encounters. Rene Cardona Jr. regular Hugo Stiglitz looks great as a wealthy boy on vacation, Esteban, who "finds himself" in a three part relationship with the cute Gabrielle and his former sexual competitor Miguel, the Shark hunter. Meanwhile the feared Tintorera, a big-ass tiger shark, is having a feast on the sexed-out beach community. The "f***-and-die" concept, usually seen in slasher films, is clearly visible and you could say that Tintorera's attack on the swimmers are really an attack on the sexual revolution. If you want cheese you'll have no trouble finding it (the Darth Vader-like breathing of Tintorera or the underwater conversations between Esteban and Miguel directly springs to mind...), but don't look to hard since the larger parts of the movie is actually pretty well-made and totally undeserving of its bad reputation (which I think is more due to the whole idea of a shark/sex movie, than the movie itself). Chances are you might actually enjoy it, as I did. Also, if you are a gay man interested in exploitation cinema you are bound to like it: the homosexual overtones between Esteban and Miguel are painfully obvious and there are numerous shots of Hugo Stiglitz cute little ass.
Cassandra Maples
Super Reviewer
Tintorera - Tiger Shark Quotes
There are no approved quotes yet for this movie.