T-Men
(1947)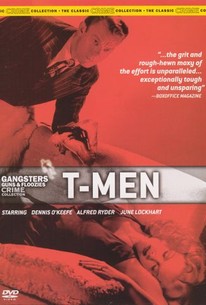 Movie Info
The moodily evocative docudrama T-Men stars Dennis O'Keefe as Dennis O'Brien, a treasury agent determined to bring a counterfeiting ring to justice. O'Brien and his partner Tony Genaro (Alfred Ryder) go undercover to gain the confidence of the ruthless Detroit mob responsible for the phony money. The plot, compelling though it is, takes second place to the film's stylish set pieces, superbly directed by Anthony Mann and brilliantly photographed by John Alton. Among the film's most famous moments is the scene in which two-bit hood Wallace Ford is bumped off in a steam bath by sadistic hood Charles McGraw, not to mention the harrowing vignette wherein O'Keefe, posing as a crook, must stand by silently as his partner Ryder is murdered. One of the finest examples of the film noir form, T-Men proved beyond a shadow of a doubt that a film didn't need to have a lush budget, brilliant Technicolor and Clark Gable to score a hit with postwar moviegoers.
Rating:
NR
Genre:
, ,
Directed By:
Written By:
In Theaters:
On DVD:
Runtime:
Studio:
Edward Small Productions
Audience Reviews for T-Men
½
Sometimes it's better not to know too much. A counterfeit ring has done an outstanding job of keeping their printing presses with fresh equipment to thwart the FBI. The FBI hires two agents to work undercover, hopefully infiltrate the ring, and bring down the men responsible. The men's lives are at constant risk...and they have difficulty earning the trust of the ranks of the gang. "I told them nothing at all. The police I no like." Anthony Mann, director of El Cid, Winchester '73, The Glenn Miller Story, The Fall of the Roman Empire, Cimarron, The Far Country, Serenade, and Thunder Bay, delivers T-Men. The storyline for this picture is fairly straightforward with interesting characters and circumstances. The acting is solid and the characters are portrayed well. The cast includes Dennis O'Keefe, Mary Meade, Alfred Ryder, June Lockhart, Charles McGraw, and Wallace Ford. "Once they get their hands on both of these we'd be dead pigeons." I came across this some time ago on Turner Classic Movies (TCM) and decided to DVR this classic gangster genre picture. This was an above average movie with an interesting set of circumstances and some surprising sequences. I surely recommend seeing this if you're a fan of the old-time classic gangster films. "You dirty fink..." Grade: B-
Kevin Robbins
Docudrama thriller about a pair of treasury agents who go undercover to bring down a counterfeiting operation. The frequent intrusions for narration tend to disengage the audience and diffuse tension, although it does make T-Men quite easy to follow for those unused to the densely plotted nature of film noir. John Alton's cinematography is a thing of inky beauty, and the film's greatest strength.
Nik Evans
½
How exciting, agents of the US treasury are on the case! Okay, I'm being sarcastic, this is a horribly boring movie.
T-Men Quotes
There are no approved quotes yet for this movie.