T.N.T. Jackson
(1975)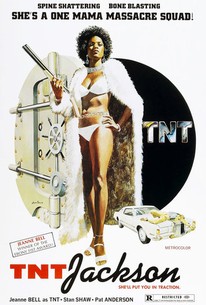 AUDIENCE SCORE
Critic Consensus: No consensus yet.
Movie Info
In this blaxploitation actioner a buxom black mistress of the martial arts heads for Hong Kong to find her lost brother. She will stop at nothing to bring him back and kicks the stuffing out of anyone who opposes her. This film is among the most popular in its short-lived genre.
Critic Reviews for T.N.T. Jackson
All Critics (2) | Top Critics (1) | Fresh (1) | Rotten (1)
Bell obviously was hired for her pneumatic assets rather than her fighting prowess: Her large two-toned afro fails to disguise the use of a stunt double during many of the hammy and unconvincing yet irresistible kung-fu battles.

Commercial Appeal (Memphis, TN)
Audience Reviews for T.N.T. Jackson
I'll be reviewing another public domain title called TNT Jackson. A blacksploitation film in 1974 starting a playboy bunny, Jeanne Bell, as TNT Jackson. The movie starts in Hong Kong where her brother gets killed. She then goes to Hong Kong to find out who killed him. Also finds a drug operation going on too. The fight scenes are okay and Jeanne Bell seems to do a decent job. I'm not quite sure since the audio is pretty bad. It's in mono so it's whispering bad at times I can only hear them when it's quiet. There's also a scene where TNT fights topless and keeps turning off a light. Also at the end they go to some place in Africa I'm not quite sure where exactly. Anyway this is a low budget blacksploitation movie so if your into mindless entertainment, enjoy. I watched it for the exotic location of Hong Kong and maybe just for fun. You can also download this as a MP4 for stuff in this link too. Don't worry since it's public domain you won't get in trouble. https://archive.org/details/T.n.t.Jackson
Nick Retzlaff
½
A blaxploitation, kung-fu film, "TNT Jackson" stands up to films like "Jackie Brown", delivering some memorable moments for a film that is only 70 minutes long. "Essentially remade" twice after, the topless karate scene involving Playboy Playmate Jeanne Bell fighting over a light switch is probably the most interesting thing to come out of the film.
Christopher Haskell
Super Reviewer
This is typical and by the numbers in every way. It technically is a blaxploitation movie, but could also be considered just a straight up kung fu film. Given the generic plot (revenge, drugs, prostitution(, you may not even need to give it either of those signifiers, and just call it a general exploitation film that happens to feature lots of afros and martial arts. This is a really unremarkable film, but I give it and extra half star since it is still somehow watchable and mildly amusing. And there's boobs. That helps. Aside form that, the plot is average and predictable, the editing sucks, the print looks awful (needs some remastering), and the writing, directing and acting leave a lot to be desired. There's some nice location shoting though. That helps. Most fiolms like this are bad, but this one is bad even by those standards. Parts of it are entertaining, but somehow a lot of it is also boring. See it if you have to, but it doesn't really warrant repeat watches.
Chris Weber
Super Reviewer
T.N.T. Jackson Quotes
There are no approved quotes yet for this movie.
Discussion Forum
Discuss T.N.T. Jackson on our Movie forum!