To End All Wars
(2002)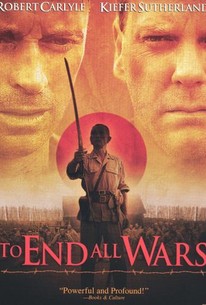 Movie Info
A World War II, prisoner-of-war drama about a group of American POWs. Led by Lieutenant Colonel Stuart McLean, the officers--Major Ian Campbell, Captain Ernest Gorgon and Lieutenant Tom Rigden--endure harsh treatment at the hands of their Japanese captors, while building a railway through the Burmese jungle.
People Who Like this movie also like
Critic Reviews for To End All Wars
Audience Reviews for To End All Wars
½
An overlooked film that gives a strong message. Not your typical prisoner of war film. This one portrays unity, humanity, and forgiveness among soldiers of all groups..the power of forgiveness over hate. Excellent cast. Very well done...
Cynthia S.
Super Reviewer
A powerful movie that offers a compelling view of war and the power of forgiveness,and does so in an effective and engrossing way. The subject matter and tone is in many ways similar to Bridge Over the River Kwai (a masterpiece), especially in the way it humanizes the enemy, though it lacks the restraint and subtlety of that film. Strong performances from everyone involved. I only wish the film had waited until the epilogue to show the real-life images of the POW camps, as to do it in-film can be distracting. An authentic and memorable tale of war and redemption. 4/5 Stars
Jeffrey Meyers
Super Reviewer
½
An amasing and unforgettable movie. Powerful, astonishing and extroadinary. A remarkable look on the inside of pain and survival. Kiefer Sutherland, Mark Strong, Ciaren McMenamin and Robert Carlyle deliver excellent performances. A relentless war drama. It grabs you and never lets go for a second. Brilliant, riveting and exhilerating. A film such as this should not be missed. Well excuted and superbly performed. An emotionally gripping, deeply moving and electrifying powerhouse. Great storytelling thats as gripping and as moving as Schindlers List. . A film with an impact more powerful than any gun battle could describe. This is true poetry-in-motion. A remarkable piece of work.
To End All Wars Quotes
There are no approved quotes yet for this movie.