To Meteoro vima tou pelargou (The Suspended Step of the Stork)
(1991)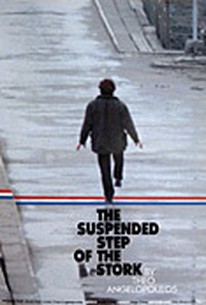 AUDIENCE SCORE
Critic Consensus: No consensus yet.
Movie Info
Four countries-France, Greece, Italy and Switzerland-converged upon the production of Suspended Step of Stork. The film is set on the Greek border, where a steady stream of refugees flows on a perpetual basis. Reporter Gregory Karr thinks that he's spotted a familiar face among the anonymous throngs. It is the face of Marcello Mastroianni, cast as a politician who has long been missing and assumed dead. Karr takes it upon himself to repatriate the woebegone Mastroianni, starting with a reunion between the ex-politico and his reluctant wife Jeanne Moreau. Cowritten by director Angelopoulos, Tonio Guerra and Petros Markaris, this moving contemporary drama was originally titled To Meteoro Vima Tou Pelargoli. ~ Hal Erickson, Rovi
Critic Reviews for To Meteoro vima tou pelargou (The Suspended Step of the Stork)
Audience Reviews for To Meteoro vima tou pelargou (The Suspended Step of the Stork)
Pretentious, monolithic, boring and with underdeveloped ideas, this film is certainly not one of the highpoints in Angelopoulos' oeuvre. The setting is very interesting though and the cinematography does a very good job in capturing the depressing, grey landscape of North Greece and the Balkans. Unfortunately, the script does not help: the characters are empty vessels that have zero interest for the viewer and their motives do not always makes sense. The film, of course, is not concerned much with psychology but uses the characters as cogs for its conceptual dimension, a bit like in the films of Antonioni. (After all Tonino Guerra, Antonioni's usual collaborator, is co-writer of the script here.) But in this case, the characters have become too thin, too much without any personal character, to ground the concepts of the film into something more concrete. This also affects the performances and not in a good way, to the point that we are left wondering what great actors such as Mastroyanni and Moreau are adding to the film. Some internal monologues in the style of Bresson here and there seem random and add nothing to the image, like when the protagonist describes the weather when we have already experienced it through the visuals. The mood is certainly there and some beautiful scenes have an impact to the viewer after the film ends, but generally speaking, this work fails to make its points clear.
George Matalliotakis
Super Reviewer
To Meteoro vima tou pelargou (The Suspended Step of the Stork) Quotes
There are no approved quotes yet for this movie.