To Whom It May Concern: Ka Shen's Journey
(2012)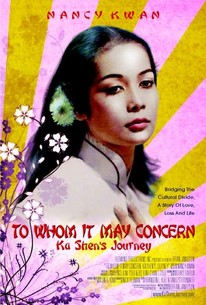 AUDIENCE SCORE
Critic Consensus: No consensus yet.
To Whom It May Concern: Ka Shen's Journey Photos
Movie Info
Ka Shen Kwan was born in Hong Kong in 1939, the daughter of a Chinese architect and a Scottish model. Ka Shen was a gifted dancer and vocalist, and was studying at London's prestigious Royal Ballet School when she was spotted by noted movie producer Ray Stark. Stark was looking for a fresh new talent to star in a film adaptation of Richard Mason's novel The World Of Suzie Wong, and he was had a hunch eighteen-year-old Ka Shen was the sort of woman he was looking for. After several screen tests, Ka Shen won the role of Suzie Wong, and took the stage name Nancy Kwan. The World Of Suzie Wong earned Kwan an Academy Award nomination and made her an overnight star; at a time when most Asian actors were stuck playing demeaning, stereotyped roles (and many roles for Asians were played by Caucasian actors in make-up), Kwan became one of Hollywood's first Asian stars and a big-screen sex symbol. Kwan's next picture was a box-office smash, a screen version of the hit Broadway musical Flower Drum Song, and Kwan worked steadily in major studio productions through the 1960s. In 1972, Kwan moved back to Hong Kong to look after her ailing father and ended up staying ten years, continuing to act while also launching a new career as a producer. Filmmaker Brian Jamieson offers an intimate look as Nancy Kwan's private and professional lives in the documentary To Whom It May Concern: Ka Shen's Journey, which features extensive interviews with Kwan as well as Sandra Allen, Joan Chen, France Nuyen and Vivian Wu. The film received its world premiere at the 2010 Cinequest Film Festival. ~ Mark Deming, Rovi
Rating:
NR
Genre:
, ,
Directed By:
Written By:
In Theaters:
On DVD:
Runtime:
Studio:
Virgil Films
Critic Reviews for To Whom It May Concern: Ka Shen's Journey
There are no critic reviews yet for To Whom It May Concern: Ka Shen's Journey. Keep checking Rotten Tomatoes for updates!
Audience Reviews for To Whom It May Concern: Ka Shen's Journey
½
To Whom It May Concern: Ka Shen's Journey is an interesting documentary for anyone that has any interest in film history. It's equally interesting for anyone who has any interest in emotionally powerful stories. This documentary follows the life of actress Nancy Kwan. It's a deep, moving, and at times even enlightening story told from the perspective of those closest to Kwan and from Kwan herself. It's so deep and moving in that as audiences learn about Kwan's rise from a simple girl to one of the most famous actresses of her time. From her time in front of the camera, it moves on to her time away from the silver screen, and what would be one of the most difficult times of her life. The enlightening moments come through revelations of early Hollywood's casting practices. Considering this revelation and where Hollywood is today, these revelations make for a very bold social statement. There are even some funny moments in the story as Kwan herself reveals how she first came to be a star. By the documentary's end, viewers will have a whole new appreciation not just for Nancy Kwan, but how far Hollywood has come since its earliest days. To Whom It May Concern: Ka Shen's Journey offers extremely moving moments throughout its near two hour run time. Audiences learn from both those closest to Kwan and from Kwan herself that she grew up in a broken home, and didn't exactly have the closest of relationship with her birth mother. It was her relationship with her father that helped her to eventually start her acting career. The people behind the camera combine this story with images of Kwan in her current age watching a stage production of the movie that brought her to fame to make some of the documentary's most moving moments. Viewers see her reactions to what she was seeing and mixed in snippets of that film, The World of Suzie Wong (1960). It helps to deeply illustrate where Hwan had come from, and the influence that she has had on the acting world. While her moments enjoying a glimpse of her past make for some of the documentary's most moving moments, it is the painful story of how she lost her son that is the most emotional. Viewers can see through her interviews that she had such a deep love for her son. That is more than likely a result of her lack of relationship with her own mother. So when she discusses the loss of her son, viewers may even find themselves becoming emotional. The story that she shares of her son is that powerful. The emotion shared in this documentary will keep audiences locked throughout its near two hour run time. It isn't the only factor that will keep audiences watching, though. As audiences watch Kwan's progression into acting, the story begins to tie in some rather enlightening facts. It's revealed through the discussion on her early acting days that Hollywood had some rather racist tendencies towards any non-Caucasian actor. It's revealed that early in Hollywood's golden era, many of the roles of Asian characters were typically portrayed by not Asians, but by American or European actors. One individual interviewed during this segment points out that it was the equivalent to blackface. That individual makes a valid point. What makes this segment hit even harder is the revelation that it was essentially because of Kwan that she was the one who really broke ground for every Asian actor and actress after her. Equally enlightening is the story of her career after The World of Suzie Wong. She had just as much success with the Rogers & Hammerstein play, The Flower Drum Song. These two works would be Kwan's biggest hits. After them, her career was up and down. That up and down with her career would eventually lead to the story of her post acting life, and the most powerful moments of the documentary. Eventually, everything is brought full circle by the story's end, making for a story that audiences won't soon forget.
Philip S
To Whom It May Concern: Ka Shen's Journey Quotes
There are no approved quotes yet for this movie.