Todo el poder (Gimme the Power)
(1999)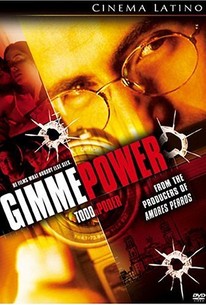 AUDIENCE SCORE
Critic Consensus: No consensus yet.
Todo el poder (Gimme the Power) Photos
Movie Info
Directed by Fernando Sariñana, Todo el poder centers around the politics and corruption that shroud the Mexican police system. Featuring Demián Bichir as Gabriel, a filmmaker whose career has left him assaulted and robbed in broad daylight more times than he cares to remember, the film itself was inspired by Sariñana's personal experience with urban crime oftentimes perpetrated by the police themselves.
Critic Reviews for Todo el poder (Gimme the Power)
All Critics (4) | Top Critics (1) | Fresh (3) | Rotten (1)
Bichir is superb as the crusading filmmaker, who channels his frustration and angry energy through his camera.
Chicago Tribune
Top Critic
Tiene el gran mérito de aprovechar a un excelente equipo de personas tanto delante como detrás de cámaras

Audience Reviews for Todo el poder (Gimme the Power)
TCM (Remake):rotten: Horror film without horror or suspense. I enjoyed the first ten minutes. It all went downhill from the diner. There were a few effects I had fun with, but the only jumpy part was a teeny one at the end. Boy, did that Leatherface look pissed! The only positive thing about this film was the acting by the young leads. Not Oscar-worthy, but a definite improvement over most of the original cast. Thanks for the butt shots of Jessica Biel. Maybe he should have added 50 more of them. :rolleyes: And damn, I never get tired of hearing [b]Sweet Home Alabama. Awesome freaking song. [/b](Not being sarcastic) Am I being picky because it's a remake? No, not in the least. I enjoyed the Dawn remake a great deal. This remake just blows. It has none of the tense moments of the first TCM. The original, while less "attractive" to look at, has a lot of dreadful and scary moments. The scene at the dining table, with Sally screaming her head off, still makes me tense and anxious. There was no payoff in this film. No big scare, no climax, no GREAT MOMENT. Nothing. A big, empty, pretty, nothing. [b]TODO EL PODER[/b]--pretty disappointing, and after a good start, too. Mexican filmmaker, gets tired of the crime in his city after being assaulted twice over the course of a few days. He decides to fight back by exposing a local gang of thieves. Just pretty unbelieveable after a while. [b]BEYOND BORDERS[/b]--:rotten: Beyond Boring. Yawn. Melodrama. :rolleyes: [b]GIRLS WILL BE GIRLS[/b]--:fresh: I had a blast with this movie. Some of the jokes are predictable or dated, but it is outrageously funny most of the time. EDITED TO ADD: Also shows the world's [b][size=4]SMALLEST PENIS[/size][/b] ON FILM.
Jennifer OftheJungle
YA SABEMOS LA HISTORIA DEL NUNCA ACABAR DE MI MEXICO LINDO Y QUERIDO LLENO DE DELINCUENCIA, INSEGURIDAD E IMPUNIDAD.
paolatina hermosa
Todo el poder (Gimme the Power) Quotes
There are no approved quotes yet for this movie.
Discussion Forum
Discuss Todo el poder (Gimme the Power) on our Movie forum!