Toe to Toe
(2010)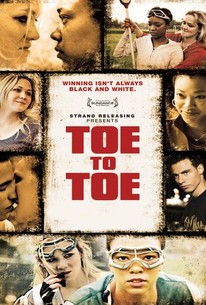 Movie Info
Two seniors at an elite Washington, D.C. prep school forge a close relationship on the lacrosse field, only to find their growing bond tested in this drama inspired by a study that indicates interracial friendships end at age 14 for approximately 87 percent of American teenagers. Fiercely determined to succeed and build a brighter future outside of Anacostia, Tosha (Sonequa Martin) is an African-American scholarship student from one of Washington's poorest neighborhoods. Perhaps Tosha's polar opposite, Jessie (Louisa Krause) is a privileged white girl from Bethesda whose promiscuous tendencies threaten to become her undoing. Though the relationship shared between the two girls is most certainly of the love/hate variety, they both strive to gain a better understanding of one another's plight as society threatens to drive them ever farther apart.
Critic Reviews for Toe to Toe
Audience Reviews for Toe to Toe
½
Excellent coming of age of movie. I feel about twenty five years too old watching this. LOL. But I enjoyed it.
Tracy Fortenberry
½
When reading the synopsis of this movie, I assumed it was going to be a rehashing of recent movies with a hard working black student trying to fit in, and over privileged white student who squanders their opportunities, how they become friends and learn about each other...and on the surface it kinda is that. But after watching the movie it goes much deeper into the spirits that drive these two girls to do what they do. True Tosha is a hardworking scholarship student at a prep school, but she is also pushed and driven by an overbearing grandmother, who treats her other siblings like trash. And Jessie is a rich kid, but she is essentially she's a latch key kid, because her mother is always overseas. There are times in this movie when you smile, cringe, and cheer... and those are usually good ingredients to a good movie.
Ricky Eaddy
krause and martin carried film like lacrosse ball in their lacrosse stx. dont be fooled by who is poor, who is wealthy, who has it all and who doesnt. loved the story.
noodlez ofdc
Toe to Toe Quotes
There are no approved quotes yet for this movie.
Discussion Forum
Discuss Toe to Toe on our Movie forum!